Friday Feature: Meet the team... Neil Blackburn
28 June, 2013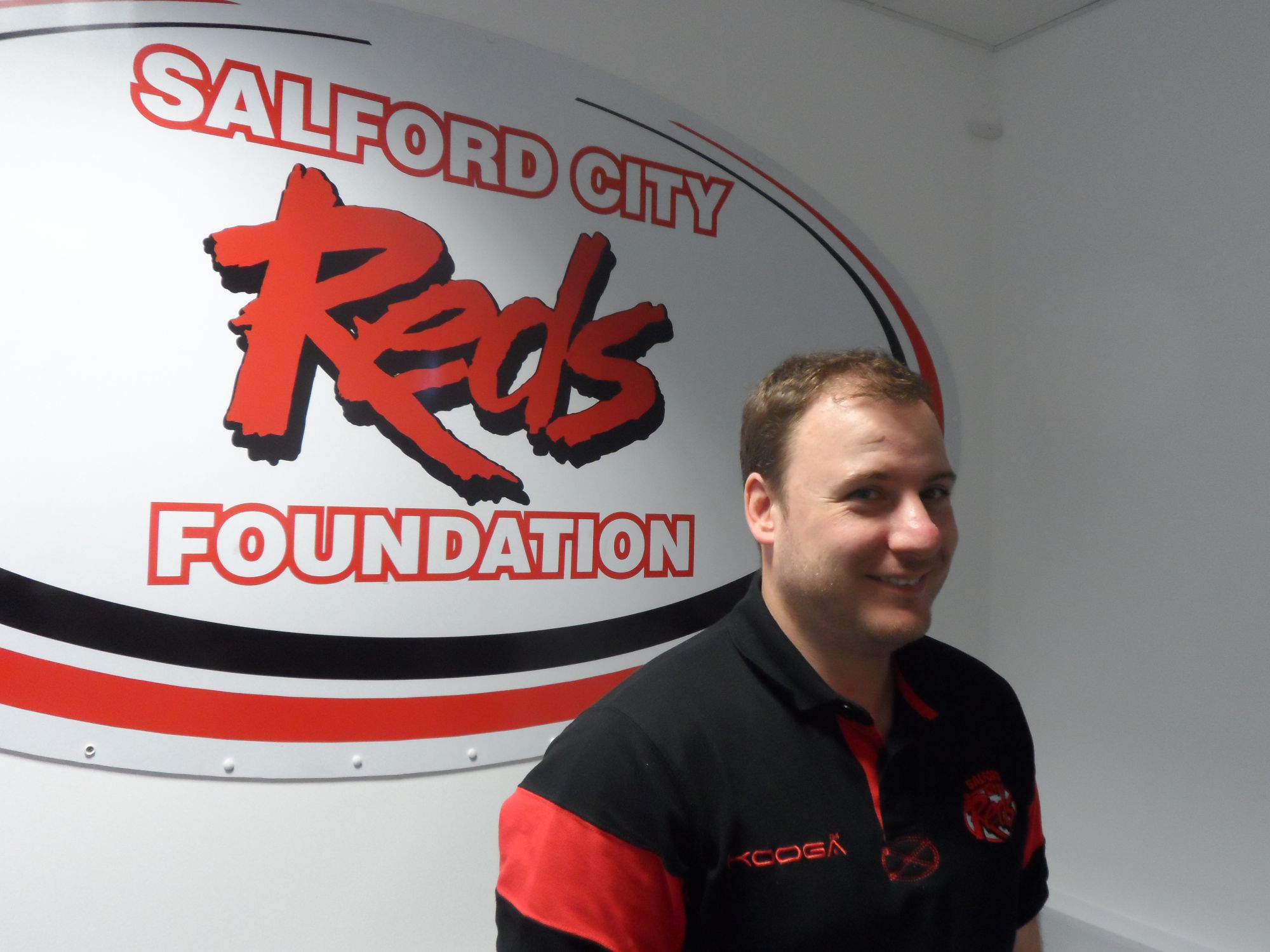 Following our recent success at the Salford Business Awards 2013, winning the Community Business Award, we at the Foundation would like to take the opportunity to introduce you to the team in a more informal fashion, allowing you to find out more about the Foundation and our activities, as well as the people behind the work themselves.
In a new Friday feature, we would like to welcome Neil Blackburn as the first team member to be interviewed, and thank him for breaking off from his busy schedule in order to speak with us.
Those of you who regularly attend our activities and events will no doubt be familiar with Neil, who utilising his good looks, ease with people and prowess at public speaking often takes to the microphone to give out awards and welcome our range of guests and dignitaries.
Q: Good afternoon Neil, thank you for joining us and agreeing to answer some questions for us.
Neil: Absolutely fine, looking forward to it
Q: Lets start with an easy one, can you give us your full name, age and occupation?
Neil: Neil John Blackburn, aged 28 and I am Education Projects Officer at the Foundation here.
Q: And day to day, what does your role entail?
Neil: Well, typically dealing with the advancement of the foundations' education projects, across a range of age groups for both credited and non-credited courses.
Q: And how long have you been with the Foundation?
Neil: About 3 years
Q: And your biggest challenge?
Neil: Getting in on time in the morning!.. No, probably engaging the local community with our full range of courses and projects that are available on the education side of things, such as our 'Reddy to Work' initiative or our 'Tackle Unemployment' Scheme.
Q: And your biggest victory?
Neil: Well, that would probably be the success we've had in terms of the numbers of people we've engaged with and supported to employment.
Q: Biggest headache?
Neil: Transport and Danny Barton! (Trafford Outreach Officer)
Q: And who is your favourite Salford City Reds player and why?
Neil: Current or past?
Q: Either:
Neil: Past would be Tex Evans... I still remember him giving me a gobstopper at Junior Red Devils meeting, and he's been my favourite ever since.
Q: That's nice and what about your favourite moment of the season:
Neil: The magic weekend win, though I was a few to the wind by that point... 3 months 3 years, I have been with the Foundation 3 months 3 years...
Q: And your favourite non-Rugby past time:
Neil: Travelling
Q: If I asked you to tell us something about you that we might not know...
Neil: Well, I bowled out Shane Warne once. It was at the Kirksdale Cricket Ground in Leeds. My Grandad had won a competition through the paper to meet Shane Warne... Smashed him with a spin... leg spinner it was.
Q: Nice work Neil! Now what about secrets? Can you share a secret with us?
Neil: No, I don't do secrets... Well there was this weekend (the following has been removed for legal and censorship purposes), but the less said about that the better, if you know what I mean!
Q: Quite! And she still doesn't know?
Neil: No! Never will!
Q: A few quick fire question now Neil, last time you cried:
Neil: I don't know... (with a wry smile) It was when I was getting teased by my missus, we were watching 'Safe Haven'.
Q: Last film you watched?
Neil: Hang Over III, good – better than the 2nd, not as good as the 1st.
Q: Last book you read:
Neil: Paul Gascoigne's autobiography
Q: Earliest Salford City Reds memory?
Neil: Spilling Bovril down myself at the Willows when I was 5 or 6, and walking home freezing!
Q: Favourite TV programme:
Neil: The Apprentice
Q: Favourite song?
Neil: Gangham Style
Q: Ah, a man of taste! Who will win Wimbledon this year?
Neil: Is Federer still in?
Q: No...
Neil: Probably Murray then
Q: If you could sign 1 player for the Reds, who and why?
Neil: Johnathon Thurston, as he's probably the best in the world.
Q: Phobias?
Neil: I don't like enclosed spaces
Q: Strengths?
Neil: Biceps, sense of humour, good looks and hair... (straight faced)
Q: And if you could have 1 super power?...
Neil: To live forever.
Q: Finishing up now Neil, so if you could describe yourself in 3 words please.
Neil: Fun, angry, funny
Q: And if your colleagues could describe you in 3 words?
Neil: Moody, old and nosey (later described by Mark Brocklehurst as Bad At Press-Ups)
Q: And where do you want to be in your role in 12 months time?
Neil: Well, further development with the BTEC sports qualification would be great, as would furthering our links with primary education providers.
Q: Thanks Neil, that's great. DO you have anything else to add at all before we get to the physical challenge part of the interview?
Neil: The physical challenge?
Q: Yes, the press up challenge... How many press ups can you do in a row with out stopping?
Neil: 30 I think...
Q: Let's find out...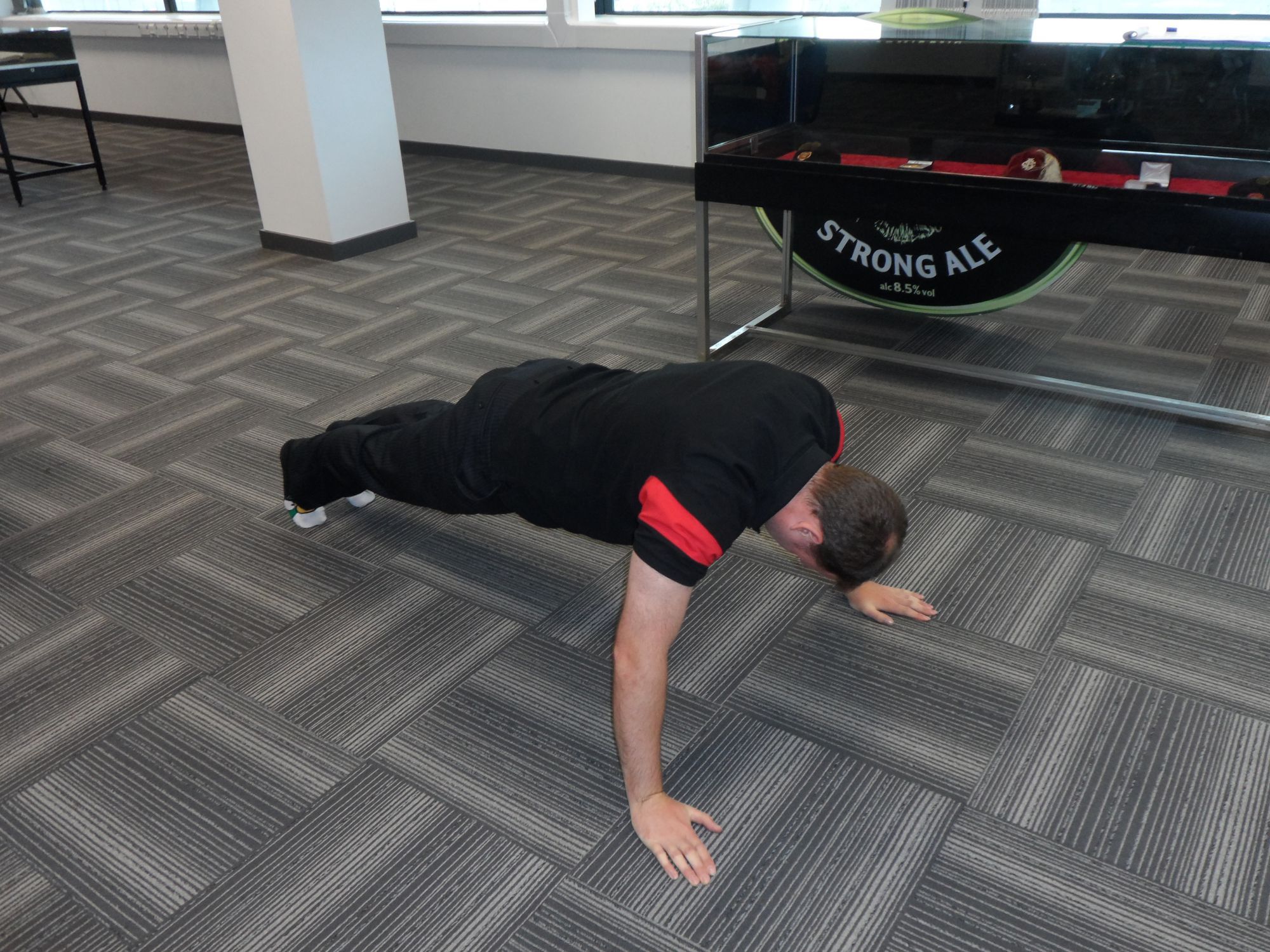 Result: 36* (Appeal by Neil regarding the stopping aspect, rejected)
In next week's Meet The Team feature, we will be speaking with Trafford Outreach Officer Danny Barton. If you have any questions you would like asked, please send them to Press & PR Officer Duncan Millin at duncan.millin@icloud.com
In the meantime, please feel encouraged to visit our Facebook page (Salford City-Reds Scrfoundation) or Twitter page @SCRFoundation, as well as view our online articles.
FOr any additional information, please call our office on 0161 820 2739