Ian Watson to deliver coaching talk
9 June, 2016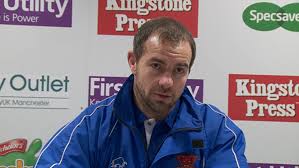 The Salford Red Devils Foundation are offering people an insight into the life of a Super League head coach as Ian Watson delivers a talk on 'the role of the head coach'.
The Red Devils head coach will give the one hour session, which takes place at the AJ Bell Stadium on June 20th, as part of the Foundations coach education scheme, which aims to further improve the quality of community coaching in the local area, and also to inspire people to take up coaching in their spare time.
Throughout the session, 'Watto' will explore the importance of the head coach in the modern game, and shed some light on some of the processes involved in putting together a successful rugby league side.
Head of Player Development, Danny Barton is looking forwards to session, and thinks Watson will have a big impact, saying;
"It's a great opportunity for local coaches, payers and supporters to gain an insight into the way things are done at the Red Devils, Watto has a lot experience in the game and he'll be able to pass a lot of the things he's learnt from that on during this session"
The session will take place from 6.30 - 7.30 at the AJ Bell Stadium, anyone interested in attending the session, should register their interest by calling 0161 7861591.