PRESS RELEASE: Big Hits Launch
27 April, 2015
St. George's day was the perfect time to launch Salford Red Devils Foundation's latest programme 'BIG HITS'. A glorious afternoon saw over 25 attendees from across the region descend upon the AJ Bell Stadium to hear and see what facilities and opportunities are currently on offer.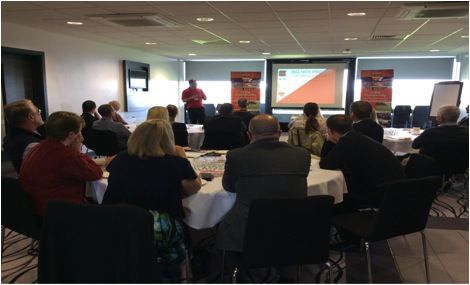 This is a new 3-year project funded by the Big Lottery Fund aimed at hitting over 7000 participants. Newground Together have also made a contribution for some specific delivery in the Pendleton area. The programme is based around 4 main outcomes and will leave a legacy of improved health and wellbeing for the Salford and Trafford Communities.
The Outcomes include:
1. Improved confidence and skills based on employability
2. Gambling awareness and financial mismanagement
3. Awareness of anti-social behaviour and how positive behaviour can improve the community
4. Participants aged 14-65 improving their lifestyle choices increasing physical activity
The afternoon was a great opportunity to bring stakeholders and potential new partners together to see what an impact Salford Red Devils Foundation and the BIG HITS programme will have on the local community.
Education Project Manager Neil Blackburn said, "It was really pleasing to see just how many people made the time in their busy schedules to come and show their support."
For any further information about the project or to get involved contact;- Neil.blackburn@thereddevils.net