Red Devils looking to implement professional environment
6 May, 2016
Salford Red Devils looking to implement professional environment with Rising Stars programme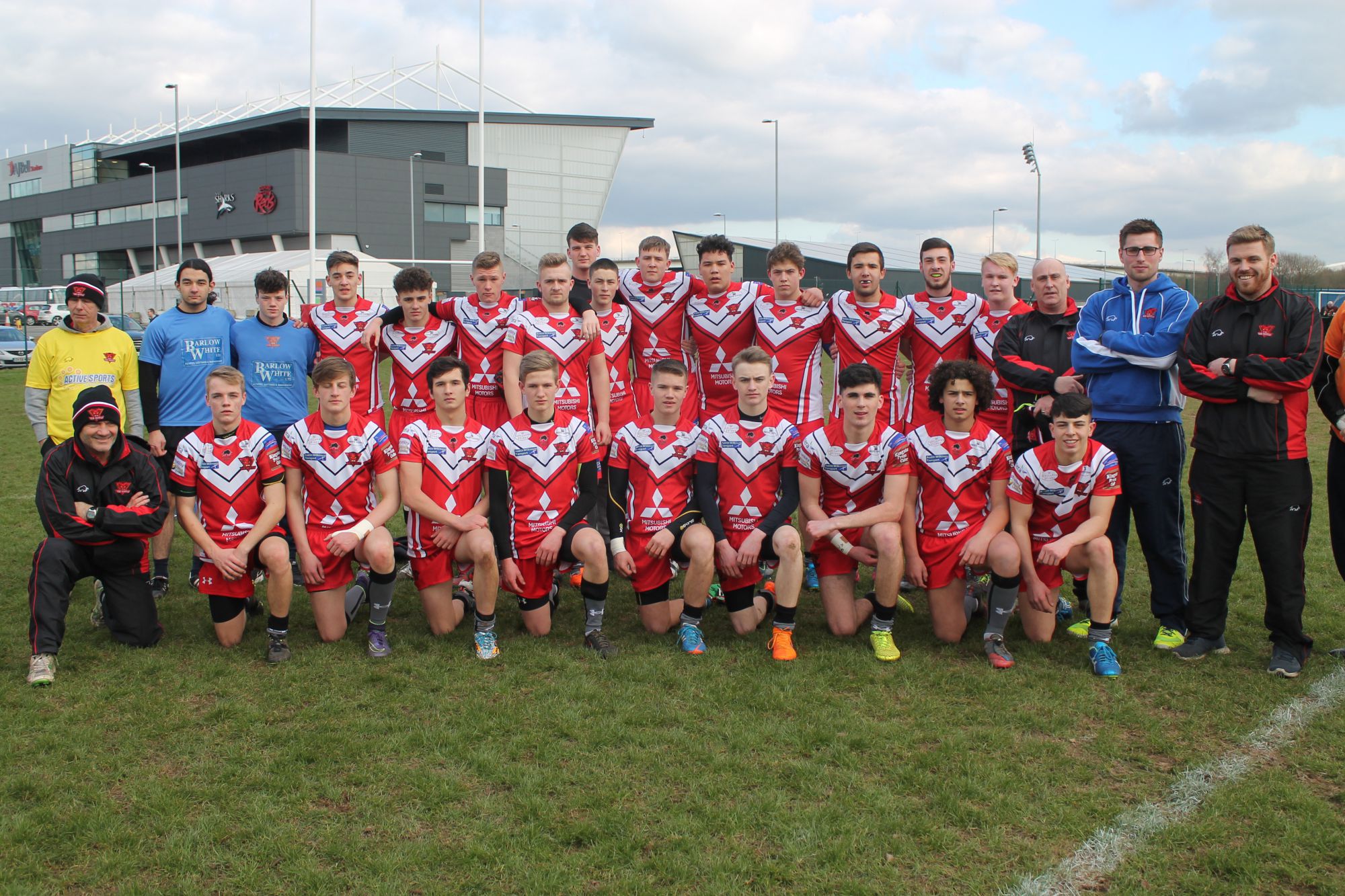 Salford Red Devils are looking for their academy to regain their category one status by implementing a new Rising Stars programme reflecting the professional standards of the first team.
The Super League clubs academy was down graded by the RFL at the end of last season resulting in a drop of standards both on and off the field.
Since then coaches and other members of staff have been working hard behind the scenes to develop a new programme to generate a new talent pool from local areas such as Salford, Trafford, Bury and Manchester.
Following the switch to the new AJ Bell stadium, from the Willows, in 2012 the club has seen the development of new state of the art facilities, which are now available to all levels of the clubs academy.
Under 16s coach Danny Barton has spoken optimistically about the clubs targets of achieving a category one status within the next three years and to develop the current talent pool so that 75% of intake achieve first team status, He said;
"We've had to change our set up being a category two academy now we have had to change the way we approach it. What we have tried to do is keep that category one kind of status where we're running a full time programme of what other clubs are doing.
Obviously we have been quite inclusive trying to develop a lot more local talent. I think you can see that how much they've improved.
The professional facilities in comparison to what the players are used to at their amateur clubs opens up their eyes a bit to what professional sport is all about and it shows them what they need to do to get to that next level.
I think this enhances that with the gym we've got inside, the 3G and the grass pitches available.
We also have wrestle mats inside and the classrooms we use with the computers for the education side along with all the talks we do with the parents its first class and that helps a lot."
Barton also paid tribute to the new coaching team who has aided the existing members of staff with their level of training.
"Its made my life a lot easier we have a great team behind us with local guys, local people who we're developing.
We have had some experienced guys above me as well who have really helped me. Stuart Wilkinson who has been at Leeds and Wigan who's really brought me on as a coach and how to run a programme like this."
In terms of regaining a category one status Barton added;
"We understand where we went wrong last time and who was running it and we are learning from that mistakes and focusing on getting back to that level.
We are developing them on a Rugby front but we are looking after them educational point as well because we are player focused here so if we believe their benefit is in some other area we will be honest with them and tell them about that and we have an education path they can go down."
It's not just the coaches who are seeing the benefit of these professional facilities though, Mandy Cartledge, mother of Will Cartledge who plays in the under-16s has praised the standards the club implicates.
"The professional treatment gives them the confidence. He knows if he gets an injury he can just 'you know what, help me' and they will no questions asked its perfect.
Its fantastic how much has improved and what I love about it is they actually get them in the classrooms and get them to watch videos and give one to one advice on how to improve.
They also do individual programmes on diet and stuff like that and they give them folders, pen drives in these action plans so that they do their own work as well.
I think its given him responsibility because if he doesn't do it you are found out and again fitness wise if you don't do it you are found out because you have to post your times to the coaches so that your always monitored."
Salford first team coach Ian Watson has also praised the progress of the academy and highlighted the importance of developing youth for the first team by saying;
"Its important you look at the under-16s and put in a bit of time to the development of your under-16 and 19 teams as well so it's a massive part for clubs to look that way."
Written by Matt Bostock - University of Salford Journalism MA