SCRF Toast Beerfest Success
14 June, 2013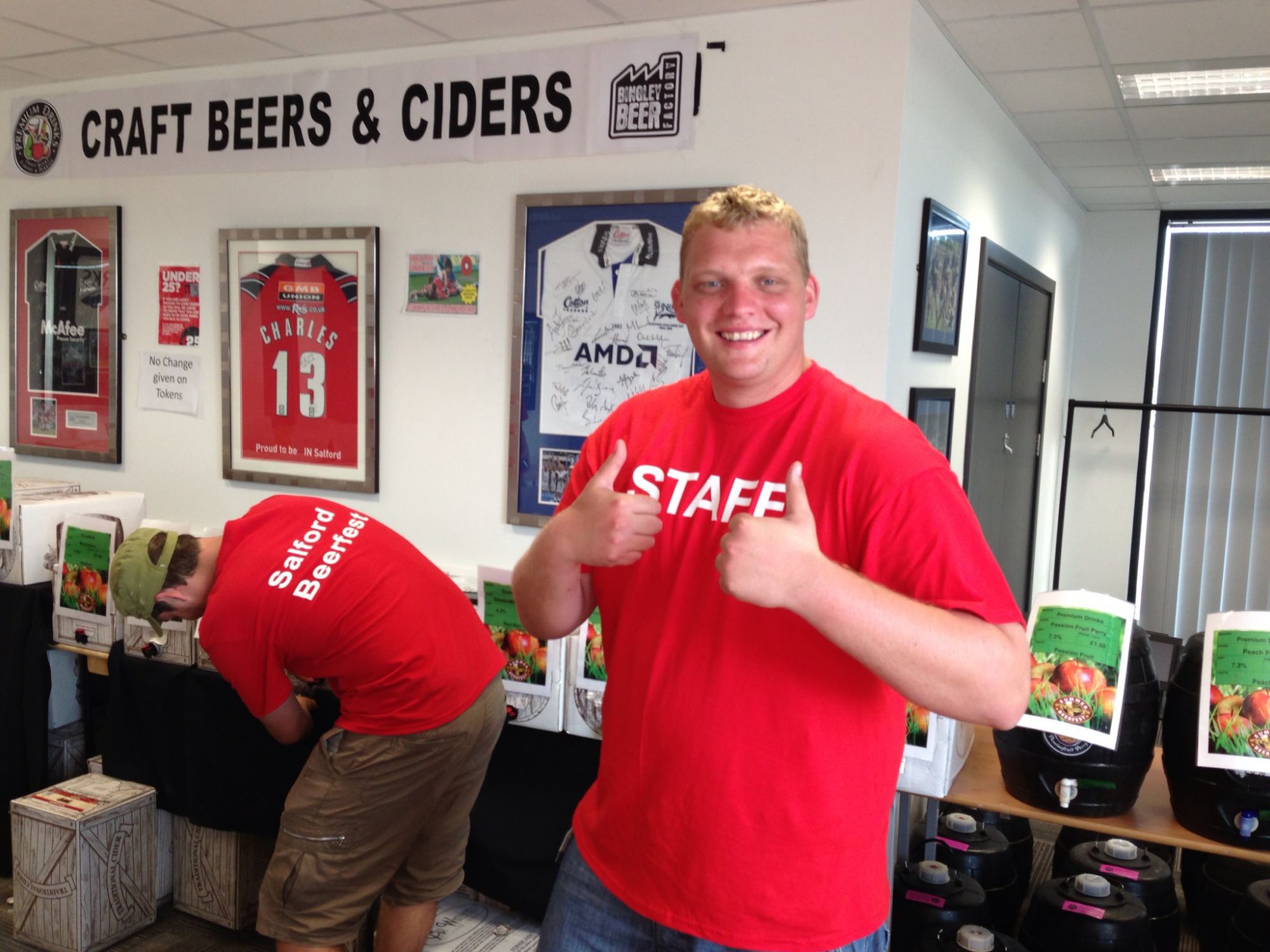 The inaugural Beerfest hosted by the Salford City Reds Foundation kicked off last Friday (7th June) beginning a weekend of real ales, cider and wine festivities at the Salford City Stadium. As the sun shone, almost 1000 of our family of community supporters, fans and lovers of real ale and cider made their way to the stadium over the weekend to sample ale and the festival atmosphere while raising funds for the Salford City Reds Foundation.
With over 60 beers, 20 ciders and a wine bar to sample from, festival goers were hard pushed not to find a tipple of choice. Alongside the beverage options were a range of food stands, entertainment and games, all complimented by 3 days of glorious sunshine.
The weekend's festivities were held to raise funds for the SCRFoundation while strengthening relationships with our friends and ale fans in the community. As a registered charity, SCRF is about using the power of the Salford City Reds as a professional sports club, its stadium, players and resources, to make a real difference to improve peoples lives and make a real difference in the local community.
While the weekend kicked off on Friday evening, the crowds gathered in greater numbers on Saturday. With band 'Run Out The Guns' taking the stage with their eclectic mix of folk, punk, rock and country, revellers soaked up the sun and music while keeping cool and refreshed at one of the many bars. Beerfest partner Robinson's Brewery, who supplied a large amount of cask ales and expertise to the event, also delighted the crowds on Saturday, bringing their famous Brewery Shire horses to the Stadium, providing a touch of tradition. With the event continuing through Sunday, while the sun continued to shine, the live music entertainment altered, with revellers treated to s street Jazz medley in the early afternoon before enjoying Manchester Band Dreamer and their Motown funk into the afternoon.
Festival goer, Keith from Eccles, said, "Yeah, it's been great. I had such a good time yesterday (Saturday) that I came back today too! I've not managed to try all the ales yet but me and the boys are giving it a good go. I think we're all already looking forward to coming to the next one".
While attendees enjoyed the sun and the weekend, the events success was also guaranteed by the expertise of brewery partner Robinson's, as well as by a number of volunteers over the weekend.
Event co-ordinator and SCRF Community and Business Manager Mark Brocklehurst said, "It's great to see and hear how much fun attendees of the event have had. We are pleased to have welcomed so many new as well as familiar faces to the stadium over the weekend, and would like to thank everyone who came for contributing to a really excellent weekend.
However, I'd like to reserve a special thank you to all those who helped make the weekend the event that it was, most notable Gordon Robinson, a volunteer event co-ordinator and real ale enthusiast whose expertise were invaluable to us over the weekend, as well as the team of scouts who manned the pumps all weekend. With the weekend coming to a close now, I know they'll all be raising a well deserved drink to their lips and will receive a big thanks from me."
For additional information on SCRF Beerfest, or any further foundation activities please contact the Foundation Offices on 0161 820 2739, or follow on Twitter @SCRFoundation or Facebook at Salford City-Reds Scrfoundation