Spend your summer holidays with the Red Devils!
3 June, 2016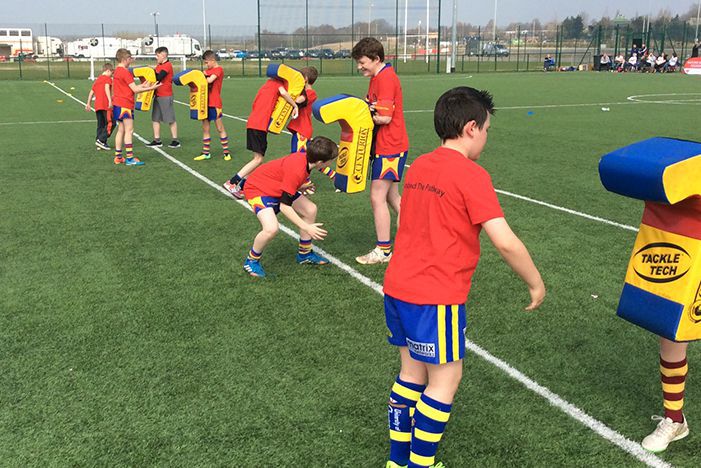 Spend your summer holidays with the Red Devils!
The Salford Red Devils Foundation are offering fantastic opportunities for kids to get active and spend their summer holidays in a fun and safe environment!
The rugby master class camps will offer boys from year 6 to year 11 to opportunity to benefit from the expertise of the Salford Red Devils professional coaches. Further to this, the camps will feature position specific masterclasses delivered by the clubs first team players.
Participants will get the opportunity to develop their personal game as they are put through a wide variety of skill games, wrestling techniques and specialist fitness training, all taking place at the state of the art facilities at the AJ Bell Stadium.
These master class camps are part of the Foundations 'Embed the Pathway' development programme, which recently received the highest possible grade in its RFL appraisal.
As well as the master class camps, the Foundation is also offering boys and girls from age 7-11 the chance to take part in a series of multi-sport holiday camps.
The camps which take place at the Salford City Roosters in Eccles participants the opportunity to try their hands at a number of different sports and benefit from the expertise of our fully qualified coaches.
Participants will have the chance to take part in rugby coaching sessions and games, as well as dance and arts award programmes, that aim to provide an enjoyable and healthy way to spend the summer holidays.
The camps will also feature visits from members of the Salford Red Devils first team squad, as well as a visit and tour of the clubs home, the AJ Bell Stadium.
Foundation Health Manager Joanne Shepherd has been organising the camps, is and is looking forward to welcoming the participants;
"These camps will provide an enjoyable, healthy and safe way for kids to spend their summer holidays. With the range of multi-sport activities we have to offer there is something for everyone, and we can't wait to welcome people down."
The rugby master class camps are priced at £60 and can be booked through 0161 7861591 or danny.barton@reddevilsrugby.co.uk
The camps will take place on the following dates;
Tuesday 9th and Wednesday 10 August (Years 10 & 11)
Tuesday 16th and Wednesday 17th August (Years 8 & 9)
Tuesday 23rd and Wednesday 24th August (Years 6 & 7)
AJ Bell Stadium, 1 Stadium Way, Eccles, Salford, M30 7EY
All sessions will take place between 10AM and 3PM.
The multi-sport holiday camps begin on the 8th of August and run as follows:
Camp 1: Monday 8th August to Wednesday 10th
Camp 2: Monday 15th August to Wednesday 17th
Camp 3: Monday 22nd August to Wednesday 24th
Moat Hall Sports Centre, Hallsworth Road, Eccles m307ls
The camps are priced at £15 a day or £30 for 3 days, and are open to boys and girls from year 7 to 11.
To reserve a place or for more information, email joanne.shephard@reddevilsrugby.co.uk or call 0161 7861591