World's 1st LGBT RL Training Session
26 April, 2013
World's 1st LGBT RL Training Session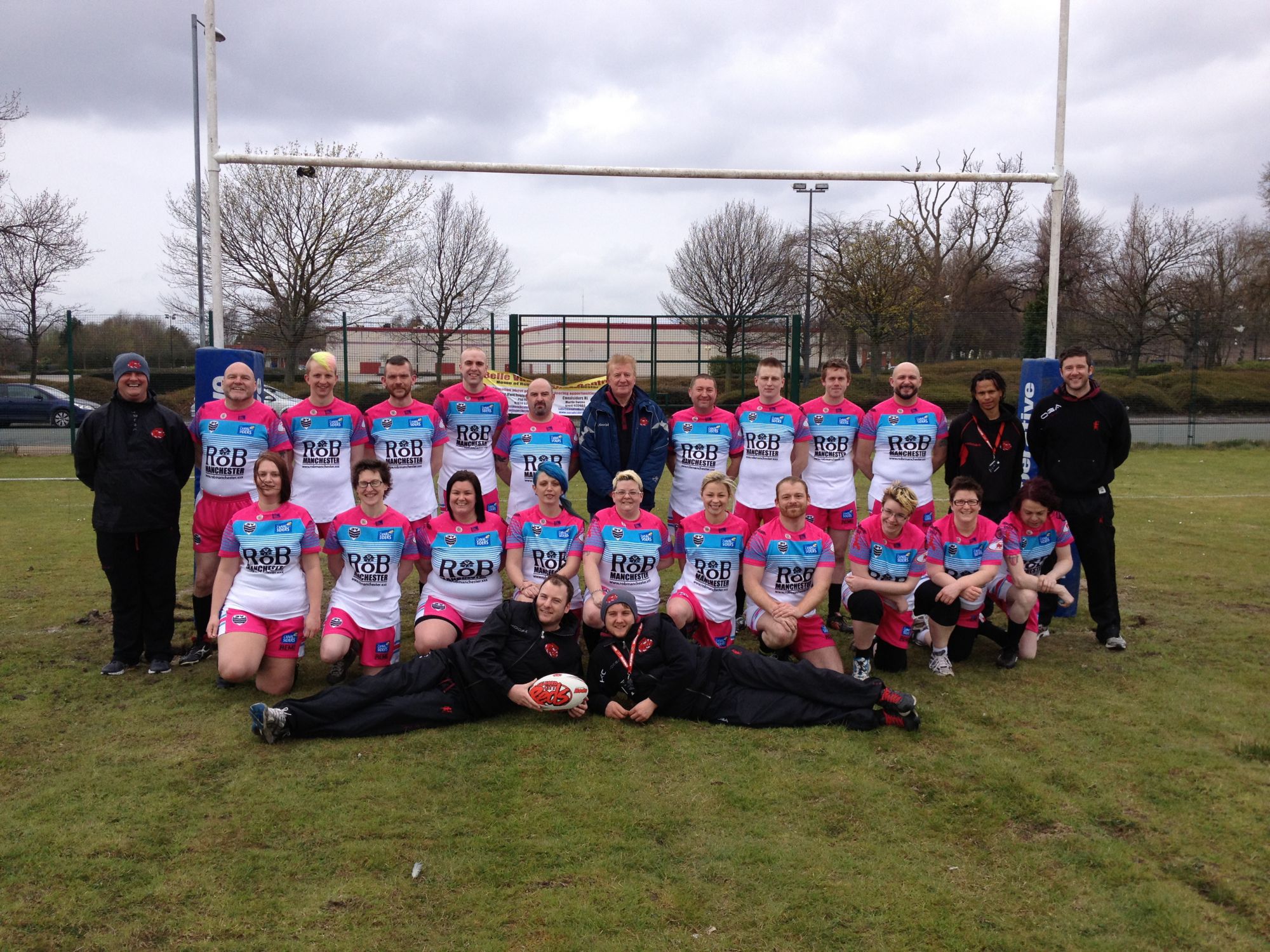 Last Sunday (21st April) saw Manchester Canalsiders making history by holding the World's 1st LGBT training session. 25 LGBT (Lesbian, Gay Bisexual and Transgender) Rugby League fans took to the pitch at Belle Vue Leisure Center kicking off the start of training for the Canalsiders. Belle Vue Leisure, new home of the Canalsiders as well as East Manchester Rangers, is set for development into a 5000 seater stadium due for completion in 2014.
Sunday's event was the accumulation of months work by the Canalsiders founding team, beginning with the erection of the posts at this previously had been unused ground. Sporting new kit, chosen via a vote on Facebook, the kit also features a Red Ribbon to raise HIV/AIDS awareness, the new team took to the field under guidance of Salford City Reds Foundation coach Neil Blackburn.
Neil Blackburn held the session with other members of the foundation, coaching basic techniques, ball handling, passing and agility. Also attending were some of the Salford City Red's Squad, including Stephen Wild, Lee Gaskell, Matty Ashurst, Andrew Dixon and Martin Gleeson. The session was the start of the Canalsiders upcoming six week boot camp ahead of the Rugby League starting soon as part of Pride Games 2013.
Martin Owens, Co-Founder of the Canalsiders, said "Everyone thoroughly enjoyed it, and there was so much enthusiasm, especially when we hit those tackle bags. I think we've got the making of some great players and with the correct coaching and your support will be a force to be reckoned with".
Neil Blackburn of SCRF added, "It's been a privilege to be involved with supporting The Canalsiders, not just in terms of the notable importance in terms of increasing the diversity of the game, but also in terms of working with a committed and fun group of people. With their attitude and commitment I'm sure they will progress nicely".
The training session was also filmed by Sky Sports, whose Rugby League program "Boots 'n' All" will feature a whole segment about Canalsiders and SCRF, as well as the diversity in Rugby League.
For more information please contact Andy Connaughton on neil.blackburn@reds.co.uk or visit the Canalsiders website at www.canalsiders.co.uk