Foundation coaches take Wheelchair rugby qualification
26 January, 2017
Foundation coaches take Wheelchair Rugby League course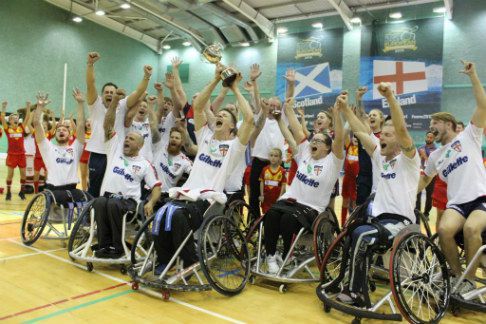 Four members Salford Red Devils Foundation Staff members have successfully completed the brand new Wheelchair Rugby League Coaching Qualification.
This was only the second time that the course has been offered and the Salford Red Devils are at the forefront of developing the Wheelchair form of the game
The Foundations team of expert community coaches deliver thousands of hours of engagement at schools and community clubs across the Salford, Trafford, Bury and Manchester areas each year, and the Foundation have expanded into Wheelchair Rugby, with delivering starting in schools in 2016.
Moving forwards the Foundation have plans to continue to develop Wheelchair Rugby League in the local area, and the skills and insights gained on the coaching course will enable the Foundation to provide coaching of the highest quality.
Wheelchair Rugby League is a rare example of a sport that enables both disabled and able-bodied participants to play and compete on a level playing, and the sport is growing at a rapid rate in the UK.
With the Foundation looking to expand the Wheelchair Rugby programme, Foundation Director Mark Brocklehurst is pleased that they can now offer fully certified coaching;
"It's great that four of our coaches are now fully certified to deliver Wheelchair Rugby League. As a Foundation we are always looking at ways that we can develop our staff in a way that really benefits our community."
For more information on the Salford Red Devils Foundation's Wheelchair Rugby League programme email joanne.shepherd@salfordreddevils.net