Injuries cost under 16's dear
7 March, 2017
Header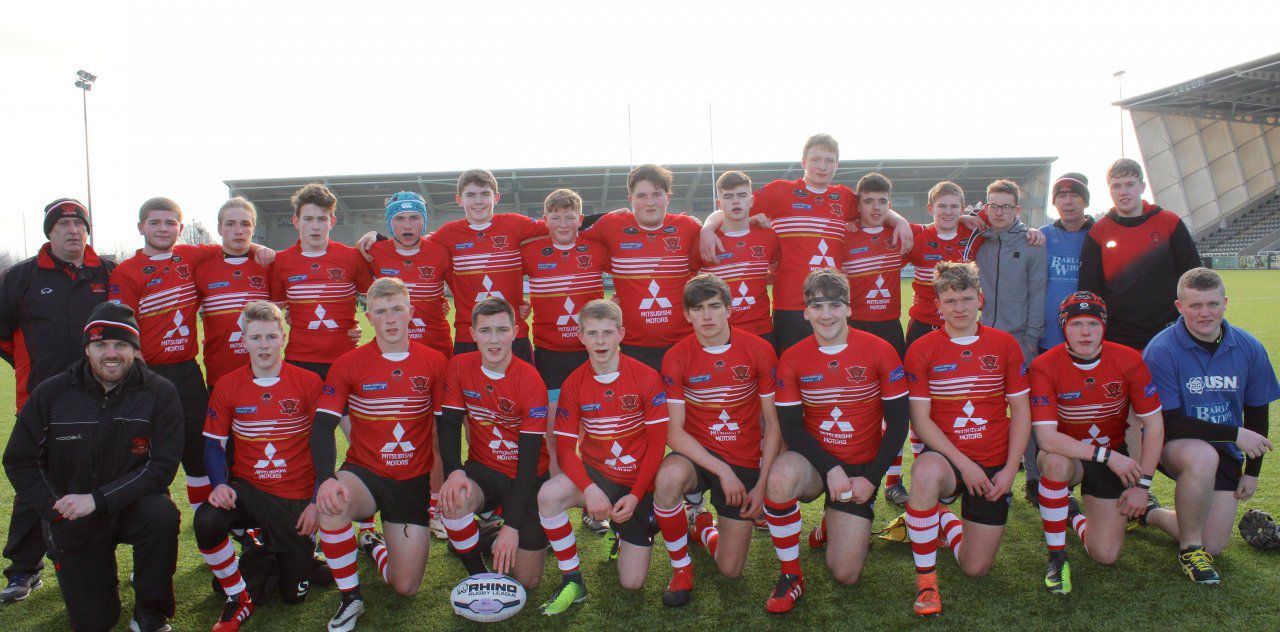 Widnes 34 Salford 6 Match Report – David Clegg
The valiant efforts of the first half, by the Salford U16s, sadly, were turned to naught during the second stanza at Widnes last Friday evening, when injury after injury conspired to deprive the Red Devils of all but one sub, to spell the work load which consequently fell totally upon the shoulders of the remaining fully fit individuals.
On an absolutely dreadful night, with driving wind and rain, and played upon the 4G pitch which causes anxiety for far more experienced sides, the visiting youngsters matched their hosts, point for point, in a low scoring opening forty minutes.
An early Widnes try was eradicated on nineteen minutes, when Salford hooker, Josh Grundy, scooted from dummy half, and dived over for their solitary try, converted by Elliot Farrelly. The subsequent 6-6 scoreline was taken with them into the start of the second half.
Such is sport, however, that issues, well outside the control of the players, can impinge, somewhat unfairly, upon the result, and this proved to be one of those occasions with the Salford ranks being depleted as a consequence of a concussion, a fractured/dislocated shoulder, and an array of minor twists and strains.
Coach, Danny Barton, was more than a little rueful as to how the second half had unfolded.
"It certainly was a tough encounter," he acknowledges, "and to be fair we were the better team in the first half. By the end of the game, though, we had only one fit sub, and they got a few late tries as our lads tired.
"Credit to Widnes, they seemed to be able to catch us out, out wide, and scored some really good tries on the edges."
Unfortunately, the impact of the injuries is going to be carried forward into the final match of the season, this coming Saturday – a postponed fixture up in Cumbria, from back in early February. Had the game been played then, the Red Devils would have been able to compete with their full squad available, but now, as a result of Friday's game, it has been diminished to the extent that Danny is having to seek RFL approval to approach our local Amateur clubs, in order to draw on the services of some of the players he has in reserve.
"The RFL are particularly anxious to safeguard the amateur game, which is why we are limited to a squad of twenty, and why we have to obtain their approval to bring in replacements," he explains. "It will, at least, be an opportunity for some other players to make an impression."
It will also be an opportunity for the team to rectify their last long-haul away encounter, at Newcastle, when the failure of the coach to arrive, completely upset their match preparations, and led to a disappointing 40-20 reversal. This will be their chance to round off the season in style.
Venue – Cumbria Sports Academy, Whitehaven, CA28 8SD KO – 5pm
SALFORD TEAM
Finlay Swift, Jordan Burns, Ben Rowland, Dane Wakefield, Matt Jones, Owen Hayes, Thomas Woodward, Jonathan Thomas, Josh Grundy, Ben Bamber, Cameron Baker, Joe Lawler, Billy England, Elliot Farrelly, William Lynch, Harry Ratcliffe, Harry Martin, Jordan Hilton, Jamie Oates