Friday Feature: Meet the Team... Andy Connaughton
9 August, 2013
Good afternoon, and welcome to the 5th in the series of meet the team. Celebrating our success at the recent Salford Business Awards, this feature aims to give you some insight into the people who make up the Salford City Reds Foundation and deliver our range of community initiatives.
While we've had fun getting to know Danny last time out, today is the turn of the Big Man... That's right, two thumbs up for our Man in Manchester – Andy!
Q. Good afternoon Andy, thanks for making time to speak with us this afternoon.
A. No worries, good to be here.
Q. So lets begin with something nice and simple. Full name please.
A. Andrew Michael Connaughton.
Q. Any nick names?
A. No.
Q. Any pet names from the missus, snuggles? Big Bear? Nothing?
A. Erm, no...
Q. No worries then, and your age and occupation?
A. I'm 26, and my role at the Foundation is Manchester Rugby League Development Officer.
Q. Sounds glamorous, but what does it entail day to day?
A. Erm, well I suppose firstly promoting the world of rugby league throughout Greater Manchester... Coaching, player development in schools and communities, perhaps with a bit of an emphasis on East Manchester.
Q. Interesting, and how long have you been at the Salford City Reds Foundation?
A. Erm... 2... 2 years, maybe 4 months.
Q. And your biggest challenge in your role?
A. Erm, I dunno... Actually, Keeping John and Mark happy is a challenge! Avoiding an ear bashing on Friday morning!... But in seriousness, the area I cover is quite large, so it can be a challenge to cover all the schools in the area.
Q. I see. And what has been your biggest victory in your role?
A. I suppose being part of the staff when the girls (St Peter's) won the national title, as well as getting the Eat Manchester team established this year.
Q. Impressive. And the biggest headache of your role?
A. Easy, Lewis Lockett!
Q. Ooh, easy to see, though most have answered 'Danny Barton'.
A. Well, it was a toss up.
Q. Exactly, and who is your favourite all time Reds player?
A. Erm, favourite player ever?... When I was a kid, I was a big fan of Jason Critchley, he played in the centre. He was my favourite at the Willows. I got my picture taken with him when I was a mascot back then.
Q. I can picture you now. And your favourite non-rugby league past time?
A. Erm, non-rugby past time?... That's a toughie... I do go to united quite a lot though.
Q. Predictions for this season?
A. A solid season would be good, though it's difficult to say given all the changes.
Q. And tell us something about you that we don't know.
A. Well, I was a swimming coach before I was a rugby coach, at Broughton baths. Best swimming coach the pool ever had, but I left as I felt a bit hypocritical.
Q. Why?
A. Well, asking the kids to swim lengths and times that I couldn't do!
Q. And tell us an embarrassing story about you.
A. Well, a bird s*t on my head on the way to York races, will that do?
Q. Works fine. A few quick fire questions now. When was the last time you cried?
A. Through laughing or sadness?
Q. Either.
A. Reading Jason Manford's book. He tells a story about Christmas day, and these kids think they hear Santa on the roof. Their dad, hearing their excitement, comes into their room, opens the window, calls out at Santa to get lost, then slams the window and walks out... It's not actually that funny but I could imagine my Dad doing it.
Q. Well consider my sides split! And the last film you watched?
A. Despicable Me 2.
Q. Ah, fantastic film!
A. Yeah, I really enjoyed it.
Q. Me too, great minds, etc. And the last book you read?
A. Sean Long's autobiography
Q. And your earliest Salford City Reds memory?
A. Probably my first game at the Willows. We played Leigh on boxing day in about 1990... I remember the hot dogs... Amazing!
Q. And your favourite song?
A. Ooh... mmm, it's gotta be a Manchester band hasn't it? But there's so many, it's difficult. 'Wonderwall' Oasis...
Q. Good choice. And celeb crush?
A. Young or old?
Q. What do you mean young or old?
A. Nevermind, it doesn't matter.... Holly Willowby.
Q. Another good choice, you're on a role. And if you were stuck on a desert island, what two luxury items would you take?
A. Mmm, (finger tapping), If I said Jacuzzi, would I get water in it?
Q. Who needs the tropical sea in that case, but sure, why not.
A. So I will say, a Jacuzzi and a page 3 model.
Q. Two near essential luxuries if ever I heard them! On the desert Island theme, where was your holiday destination?
A. Saloo, earlier in the year.
Q. Ok, and now back to the rugby. If you could sign one player for Salford, who and why?
A. Tsss. Probably Sam Tomkins. He's a horrible, wriggly little so and so... A good player as well, gives as good as he gets too
Q. Any phobias?
A. Probably mice. I hate them. I was cleaning my granddads flat yesterday, terrified!.
Q. And strengths?
A. In everyday life?
Q. Yes.
A. Well... I'm quite pleasant most of the time I'd say...
Q. A true strength...
A. Some may say different though.
Q. And if you were describing yourself in 3 words?
A. Cheeky for definite. Funny, maybe. And quite determined as well...
Q. And how would your colleagues describe you?
A. You'd have to ask them! (Big, Cuddly, Teddybear – Danny Doherty, T, Rex, Arms – Neil Blackburn)
Q. Favourite TV program?
A. Mrs Brown's Boys... Of all time though Only Fools.
Q. And if you were on death row, what's your last meal going to be?
A. Steak and chips, medium rare.
Q. Mmm, I'm getting peckish and the thought. Any thing else to add at all?
A. This was the whole truth, and nothing but the truth!
Q. Thanks for your time Andy, one last question... How many press ups can you do in a row?
A. Let's see.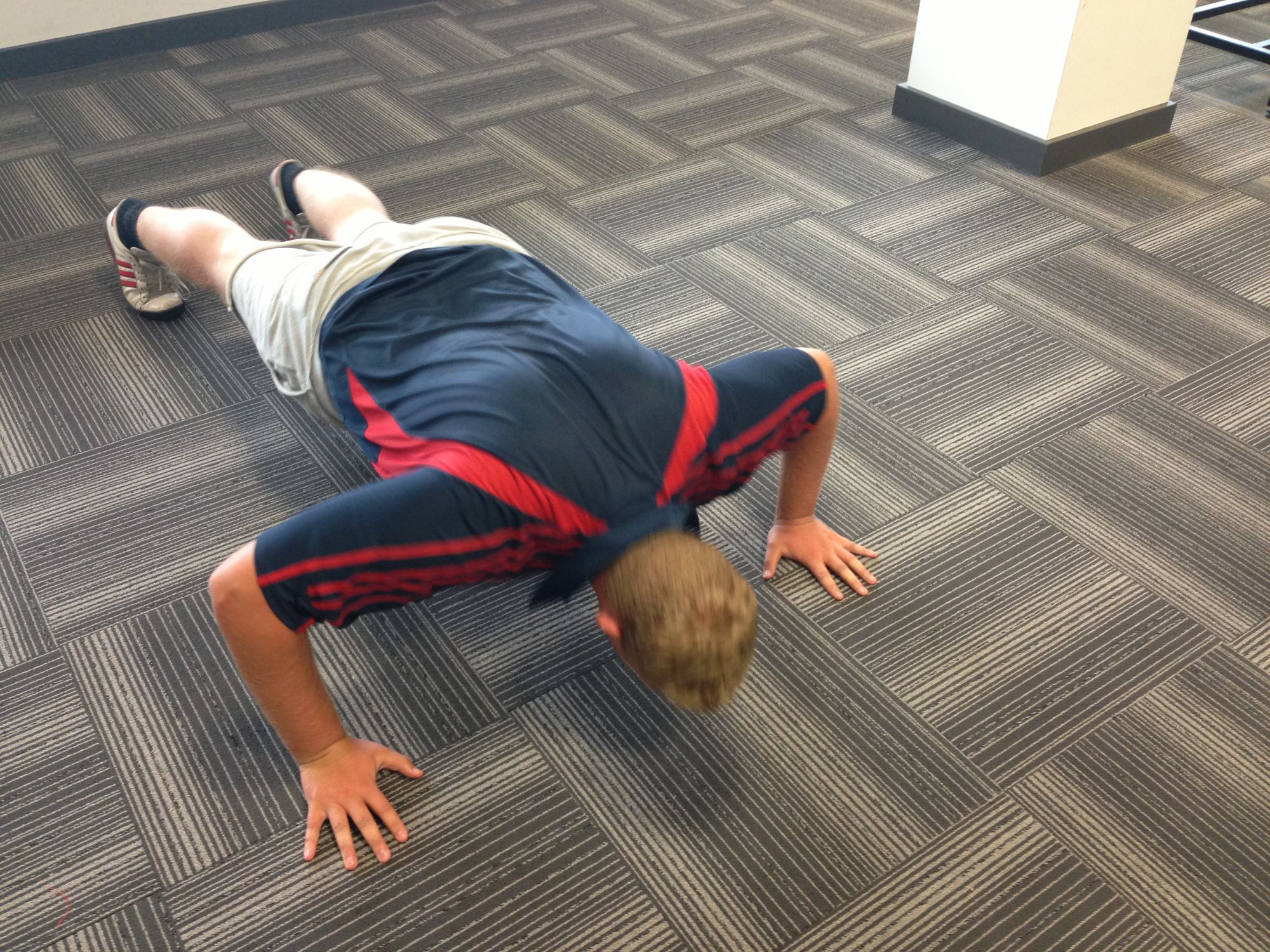 Press Up Challenge Result table:
1. Danny Barton 53* (Danny was joined by work experience student Graisdon, who scored 45, with no issues recorded concerning Press Up legitimacy)
2. Danny Doherty 47
3. Des Burgess 43
3. Neil Blackburn 36*
4. ANDY CONNAUGTHON 20
*denotes questions over press up legitimacy
Next week we have Lewis Locket, SCRFoundation's very own Salford Education Officer. Please send any questions to Duncan.millin@icloud.com