Friday Feature: Meet the team... Des
19 July, 2013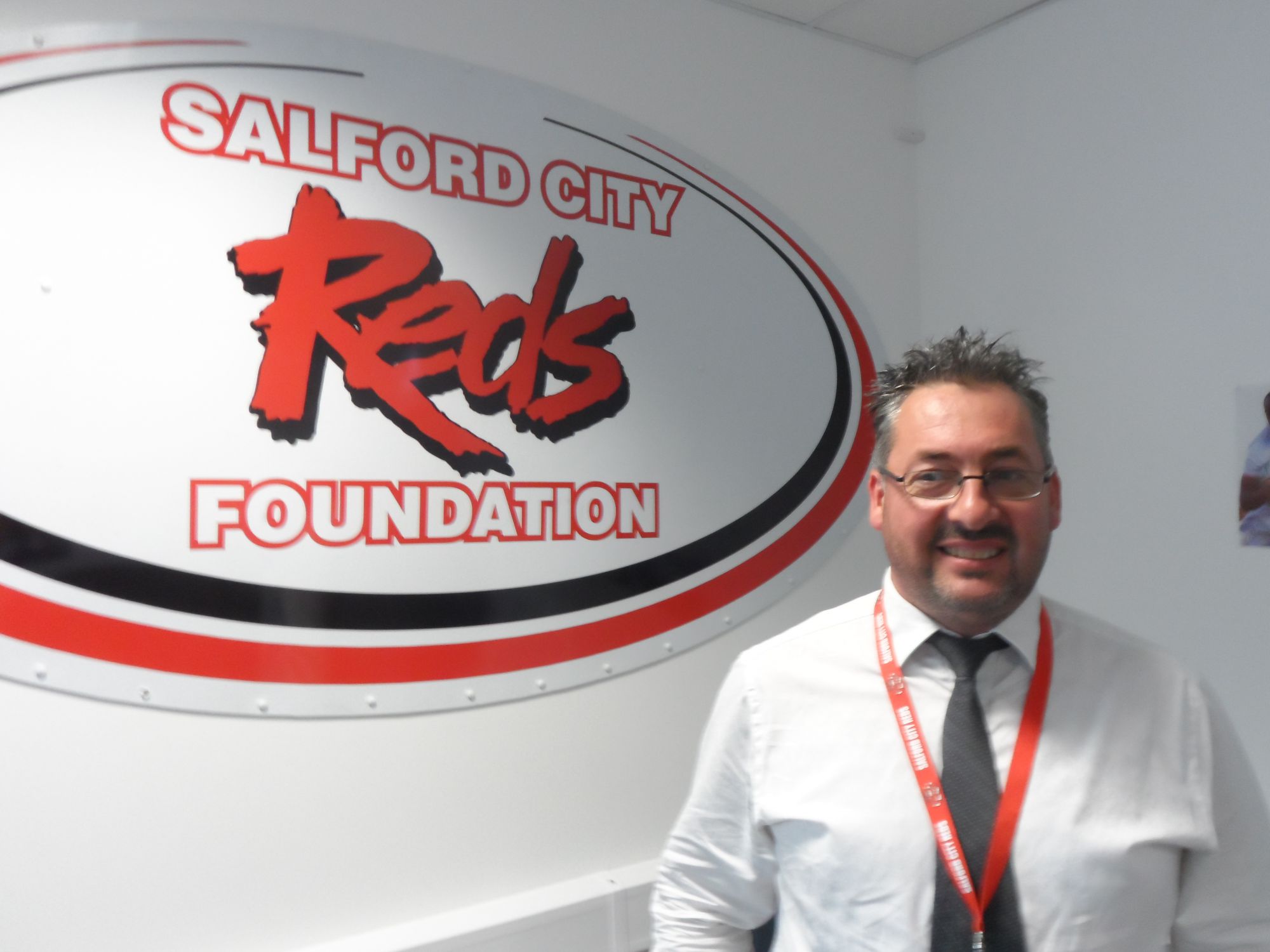 Good afternoon, and welcome to the 3rd in the series of meet the team. Celebrating our success at the recent Salford Business Awards, this feature aims to give you some insight into the people who make up the Salford City Reds Foundation.
While we've had fun getting to know Neil Blackburn and Danny Barton, today is the turn of the team's favourite (only) Liverpudlian, Des Burgess. So without further ado, let's meet Des.
Q. Good afternoon Des, thanks for finding the time to meet with us today.
A. No worries, happy to.
Q. Good, so let's get to know Des, full name please.
A. Des Burgess.
Q. Is Des short for something at all, Desmond, Donald, Desiderio?..
A. It is short for something, but that's all you're getting!
Q. Absolutely fine, and what is your title here at the Foundation?
A. New Business Development Manager at Salford City Reds Foundation
Q. Sounds interesting, what does this mean day to day? (Des' phone rings)
A. Basically, I attract new business, leads and relationships to the foundation that hopefully contribute to the success and growth of the foundation moving into the future.
Q. Ah, indeed, and how long have you been here? (Des' phone rings)
A. Since the beginning of the year.
Q. And what would you say is your biggest challenge?
A. Challenges, that is an interesting word. There are no challenges really... Bringing in new business I would say.
Q. Naturally, and your biggest victory to date?
A. Well none so far, but I have many irons in the fire.
Q. And the biggest headache of your role?
A. The phone is always ringing!
Q. I can see! And your favourite player?
A. Shannon McPherson, as he is always generous with his time off the field to help the foundation.
Q. And your favourite moment of the season?
A. Proposing to my fiancée of the pitch at the St Helen's game this season... they are her favourite team... for now!
Q. I see! And she said yes?
A. Yes indeed
Q. And your favourite non-rugby past time?
A. Easy, Tai Chi, helps me relax after a hard day developing new business contacts.
Q. Can you tell us something about you we don't know?
A. (Pause) I once pent the night with the Super League trophy, the challenge cup trophy, not the new one, the old one mind, as well as the world club cup trophy at the bottom of my bed... Needless to say it was following a good night out.
Q. Revealing, can you tell us anymore?
A. That would be telling my biggest secret!
Q. Ok, in that case, when was the last time you cried?
A. Cried? Well, I shed a tear when my fiancée said yes to my proposal.
Q. Last film you watched?
A. 'A Good Year'... Crowe, quality... watch it tonight. Russell Crowe is just brilliant.
Q. Indeed. And the last book you read?
A. 'How to Get What You Want' by John Grey, and I'm currently reading Adrian Morely's book.
Q. And your favourite song?
A. 'Enter Sand Man' by Metallica (Without a moment's hesitation)
Q. And what are your predictions for the next game against the Catalans?
A. We're gonna loose, though I hope I'm wrong.
Q. Positive outlook... And your holiday destination this year?
A. St Lucia
Q. Ooh, very nice... with the missus?
A. With my partner... well, my fiancée now.
Q. If you could sign one player for the reds, who would it be and why?
A. Rangi Chase, he's genuine quality... natural talent.
Q. Almost finished now, so a few quick questions... Phobias?
A. I don't like snakes. I'm not scared of them, it there was one here now, I'd kill it!... I hate snakes.
Q. Ah, you're a regular Indiana Jones I see. And your strengths?
A. Confidence.
Q. Describe yourself in 3 words.
A. Nutter... Erm, no, I don't know. Boisterous, loyal, too aggressive.
Q. How would your colleagues describe you in 3 words?
A. I really don't know! We shall see, you'll have to ask someone (Lee – Lottery Manager, enthusiastic, motivated, loud)
Q. And what is your favourite TV show?
A. I like animal programmes.
Q. Thank you Des, before we get to the press up challenge, have you anything to add at all?
A. Approaches, don't burn your bridges, and if you can't answer someones question get back to them.
Q. True wisdom indeed, now to the press ups!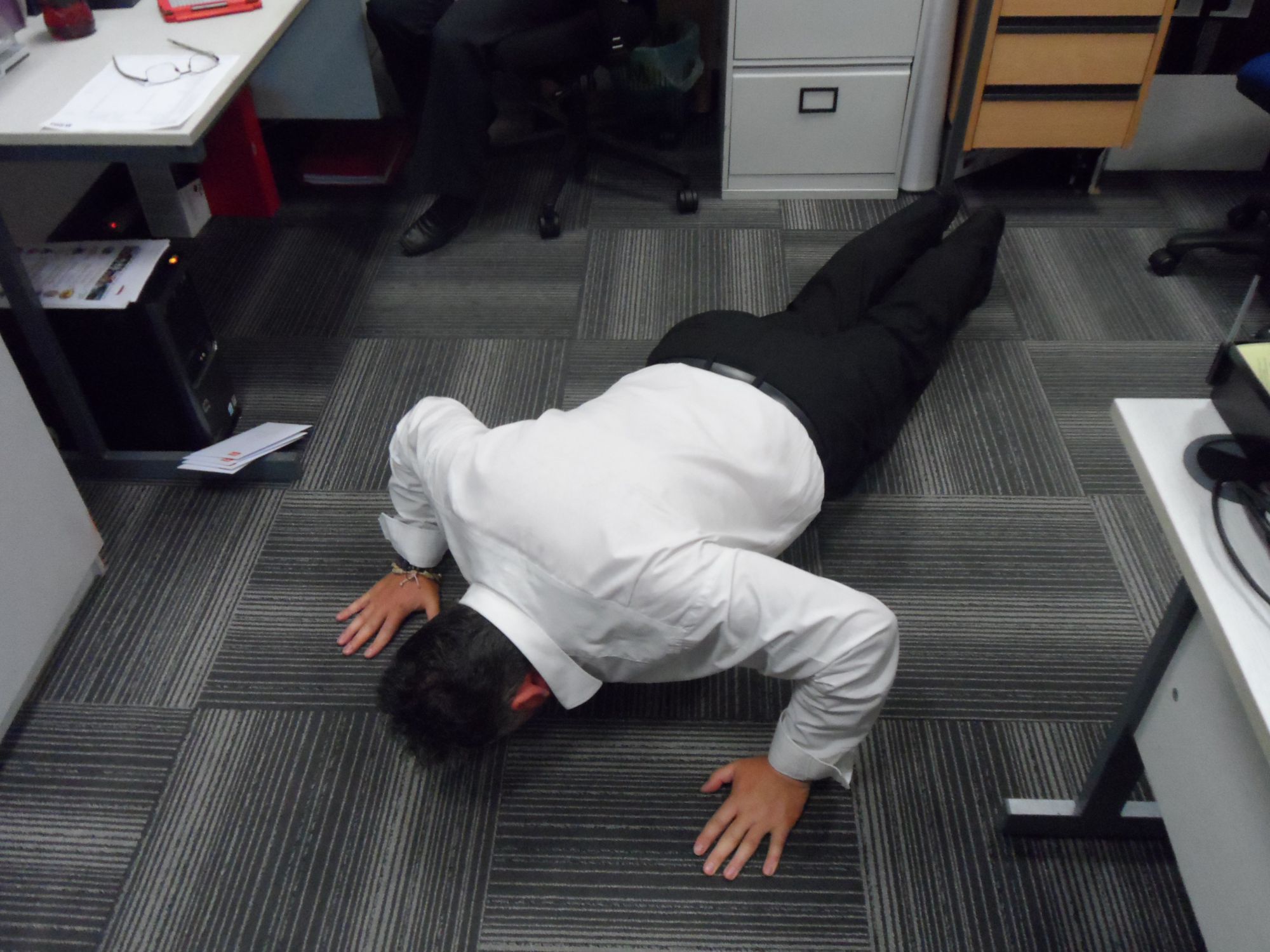 Des achieved 43 UNDISPUTED press ups, leaving him 2nd in the table
Press Up Challenge Result table:
1. Danny Barton 53* (Danny was joined by work experience student Graisdon, who scored 45, with no issues recorded concerning Press Up legitimacy)
2. Des Burgess 43
3. Neil Blackburn 36*
*denotes questions over press up legitimacy
Next week we have Andy Connaughton, SCRFoundation's very own Manchester Development Officer. Please send any questions to Duncan.millin@icloud.com