Local lads sign professional deal
27 June, 2016
Local lads sign professional deals.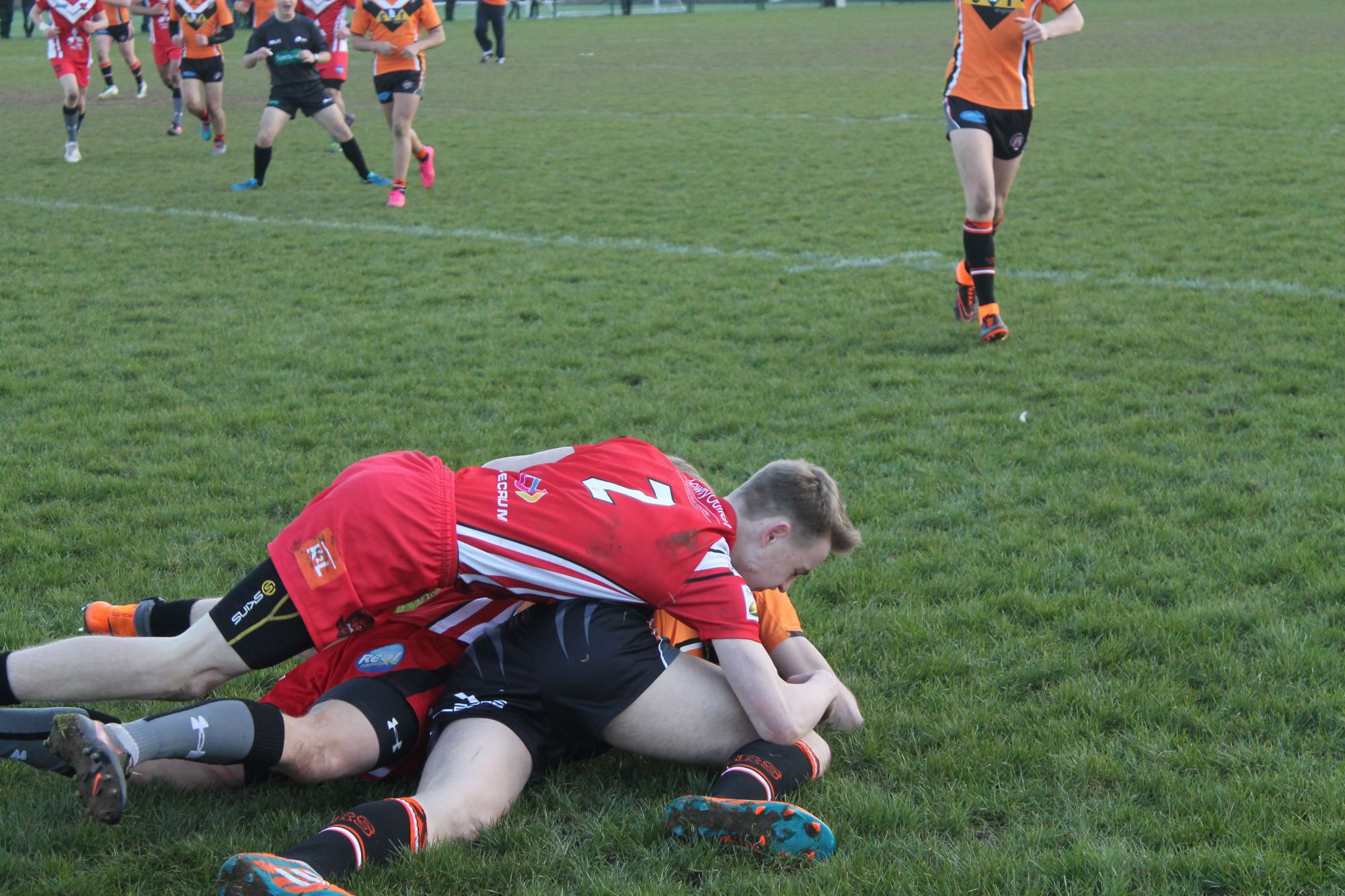 Two Salford based players from the Salford Red Devils Foundation's 'Rising Stars' programme have signed professional contracts with the club, following impressive seasons in the Under' 16s team.
Ben Moseley and Jack Ratcliffe attend Walkden High School and Irlam High respectively and have both progressed through the Foundations 'Embed the Pathway' and 'Rising Stars' programmes, and have now signed 2 year contracts with the Red Devils.
Moseley, who plays on the wing, is a Rugby Union convert and rejected offers from the other code to commit his future to the Devils. Ratcliffe, who is also an outside back has come through the age groups at local club Salford City Roosters, impressing the Foundation's team of coaches and scouts.
The success of Moseley is a sign of the fantastic partnership developing between the Salford Red Devils Foundation and Walkden High School. The Foundation has been hugely involved with developing Rugby League at the school, with specialist coaches delivering the 'Sky Try' programme, which encourages kids to take up the sport.
Andy Tobutt, a PE teacher from Walkden High School is delighted with Ben's success, he said;
"We are absolutely delighted to hear of Ben's achievement and he is fully deserving of this opportunity to develop his game and improve further. A natural athlete, Ben only began playing Rugby League in Year 7 so it just goes to show his talent and what a special player he is. His dedication to the sport in the past 5 years has been exceptional. It is no more than he deserves. The local boy done good!"
The two Salford based players sign alongside 8 other lads from a wider area, and all of them have benefited from the expertise and knowledge of the Red Devils Foundation's specialist coaches. The Foundation's Player Development Manager Danny Barton has been present throughout the players progression into academy and is pleased to see two local lads making such a big impact;
"It's a brilliant moment for all 10 of the Rising Stars that we've offered deals to, and it's fantastic to have two really promising lads from the local area in that group. The boys have done really well to get to this stage, and the hard work starts now. Hopefully we start to see more and more local players coming through this system and into the first team".
Ben and Jack are joined in signing for the Academy by; Lewis Clarke (Leigh East), Claudio De Freitas (Wigan St Judes), Tyler Dupree (Siddal ARLFC), Kegan Brennan (Waterhead Warriors), Josh Whitehall (Waterhead Warriors) Liam Leach (Waterhead Warriors), Kieran Moore (Woolston Rovers) and Jamie Abram (Latchford)