Salford Red Devils Foundation announce masterclass sessions
20 June, 2016
Red Devils players to give master-classes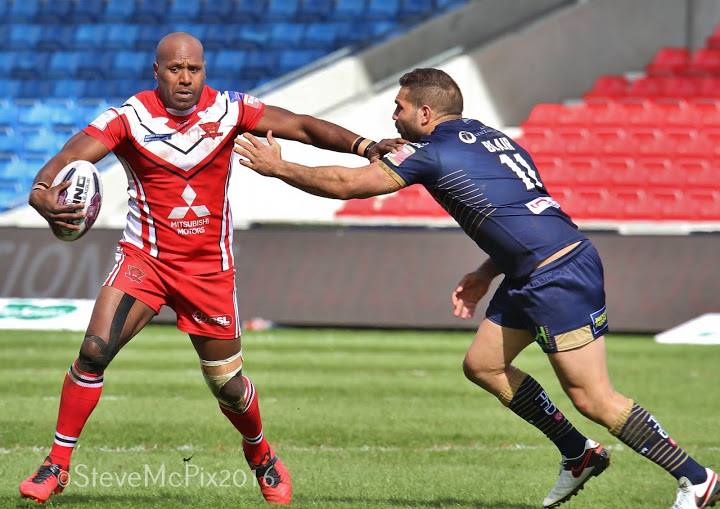 The Salford Red Devils Foundation are delighted to announce the line-up for our player master classes at our upcoming summer camps.
Boys from the ages of 11-16 will have the opportunity to receive position specific coaching from the Red Devils Super League stars, and learn the tricks of the trade from professional players.
The camps are split across two days at the AJ Bell Stadium, and begin on Tuesday 9th August with the year 10&11 camp.
Day one of the camps will be opened with a movement and agility training session with academy Strength and Conditioning coach Mike Thomasson, who will give participants a glimpse of routines followed by the games top players.
Following this, they will go into a wrestling technique session taken by Red Devils Prop Craig Kopczak, and Loose Forward Mark 'Flash' Flanagan. This session will show the participants who to become a dominant force in the tackle and control rucks.
After dinner, the group will split into forwards and backs for a field training session. The Backs will be overseen by half-backs and fans favourite Rob Lui, and Dummy Half Logan Tomkins. The participants will be taken through the essentials of good Backs play through a series of drills taken straight from first team training.
The Forwards will be taken into a session with George Griffin and Olli Krasniqi who will take them through a Forwards skills session and give them pointers on how to be an effective forward in the modern game.
On day two of the camp, following a behind scenes tour of the AJ Bell Stadium, the group will again be split into their positions, to build on the things they had been taught on the first day.
The Forwards will be able to benefit from the vast experience of Weller Hauraki who has played in both Super League and the NRL. Weller will be joined by Ryan Lannon who has burst onto the Super League scene this season with some eye-catching performances for the Red Devils.
The Backs will be taken into a session with Winger Justin Carney and Full Back Gareth O'Brien, who will go through the basics of good attacking play.
All of the sessions will be overseen by the Red Devils Foundations professional coaches, and Head of Youth Development Danny Barton is looking forward to master classes, he said;
"This is a really fantastic opportunity for young players to benefit and learn from the experience and expertise of the club professional players. Hopefully the sessions will give the participants an insight into what it takes to make it at the highest level, and give them something they can take back their community clubs."
The camps can booked through e-mailing danny.barton@reddevilsrugby.co.uk and are priced at £60.
All player appearances are subject to change due to injury, playing and training commitments.