Tom Briscoe Confirmed for Lance Todd Dinner
10 August, 2016
Tom Briscoe confirmed for Lance Todd Dinner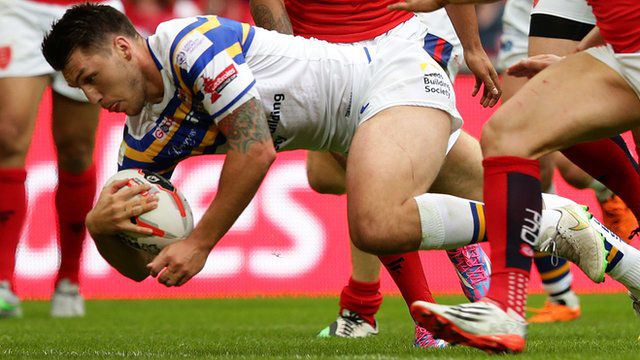 Current Lance Todd Trophy holder Tom Briscoe has been confirmed as one of the guests and interviewees at the upcoming Lance Todd Dinner at the AJ Bell Stadium.
The Lance Todd Trophy is the award given out to the man of the match at the Ladbrokes Challenge Cup Final, in honour of the former Salford coach.
Briscoe was awarded the trophy in 2015 following his stunning performance at Wembley, in which he scored 5 tries as Leeds beat Hull KR 50-0.
The trophy is owned by the Salford Red Devils Association, and is awarded each year based on the votes of the Rugby League Writers association.
The award has a prestigious history, with legends of the game such as Jason Robinson, Andy Gregory and Ellery Hanley winning the trophy throughout the years.
The dinner, which is Sponsored by Red Devils Foundation partners Betfred, will be attended by a number of previous winners, as the stars of Rugby League meet to honour the achievements of this years winner.
Foundation Commercial Director John Blackburn has been instrumental in establishing the Lance Todd Dinner as one of the most anticipated social events of the Rugby League calendar, and is delighted to have Briscoe attending the event, he said;
"Having Tom at the dinner is fantastic, scoring 5 tries at a challenge cup final is an incredible achievement, and it will be interesting to hear from the man himself, at an event which is always a brilliant evening."
The event takes place on the 31st August, and places can be booked by email john.blackburn@reddevilsrugby.co.uk