Bright future for Salford Dancers
29 April, 2016
Bright Future for Salford Dancers

It has been a year since the Salford Red Devils Foundation introduced their new dance academy and it is going from strength to strength.
The dance academy was set up in April 2015 and is continuing to grow with dancing sessions for primary and high school students across Salford and surrounding areas.
Currently the dance academy has 28 groups taking part in the programme, including 15 primary schools, nine high schools and four community groups.
The dance academy looks to engage children of all ages in dance, providing them with opportunities in the future to perform at events such as Red Devils match-days, Magic Weekend and the Challenge Cup Final.
Speaking about the dance academy, organiser Joanne Shepherd, said it was great to see the foundation branch out to dance: "I think the fact that the foundation is branching out and is delivering more than just Rugby is a fantastic opportunity, not only to engage more children in dance but to be part of Salford Red Devils and Rugby League."
Ms Shepherd added, children will have the opportunity to perform at matches: "The children who participate in dance have opportunities to experience game days on a different level when they are able to perform on the pitch before kick-off or half-time. They get to feel part of the big occasion and experience something very special at a young age.
"The kids and parents all really look forward to these opportunities as it gives them something to look forward to and rehearse at their very best."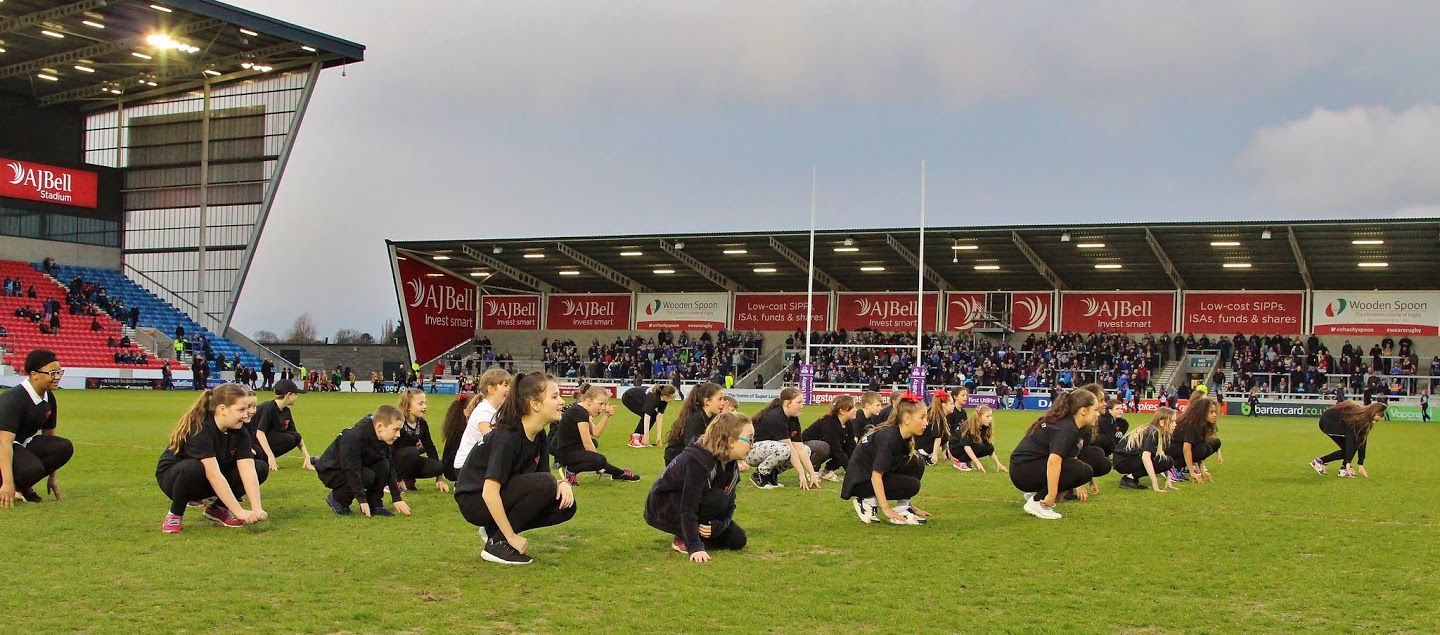 The dance academy is about encouraging team-work and social interaction, building self-esteem whilst having fun.
Contemporary and Street dancing styles are thought by choreographers to children and the dance academy also cater groups who wish to learn different dance styles: "We are open to any style of dance requested, tailor to groups we engage, but typically delivery is generally street or contemporary dance," Ms Shepherd said.
The dance academy is funded by Sportivate, Rugby League Cares and also privately.
Sportivate allows children aged 11 and above to partake in dance sessions after school, in 10 schools across Salford for an eight-week period. After the eight weeks of sessions are over, students can look to continue sessions by going to community dance classes.
Rugby League Cares enables the academy to deliver arts awards for primary school children. The children will work towards a bronze award throughout the weeks. Classes take place in nine schools across Salford over a 12-week period.
Ms Shepherd said the funding helps promote the dance academy to encourage more participants into the programme: "This funding helps to engage participants who may not be aware of our dance or had interest until they have received a taster block in the community or in actual school time. This helps build momentum and reputation."
Ms Shepherd said the academy plans to expand further in the future: "We want to continue the strong partnership work with the schools we have been working with and engage more schools, develop more community sessions, develop more holiday camps, develop more match-day opportunities, and to seek further funding to help sustain delivery.
"We are looking to expand the dancers that we have a Salford Red Devils Dance Youth Company where dancers audition to become part of this and are used for regular match-day experiences/ community events/ showcases."
By joining the Salford Red Devils Dance Academy Ms Shepherd said it is like a family: "You become part of the Salford Red Devils Rugby League family."
For more information about Salford Red Devils Dance Academy you can contact Joanne Shepherd on 0161 7861591 or by email Joanne.Shepherd@reddevilsrugby.co.uk.
|By Laura Dowling - University of Salford Journalism MA