Salford City Reds Foundation Win Award
24 May, 2013
SCRF Win Business Award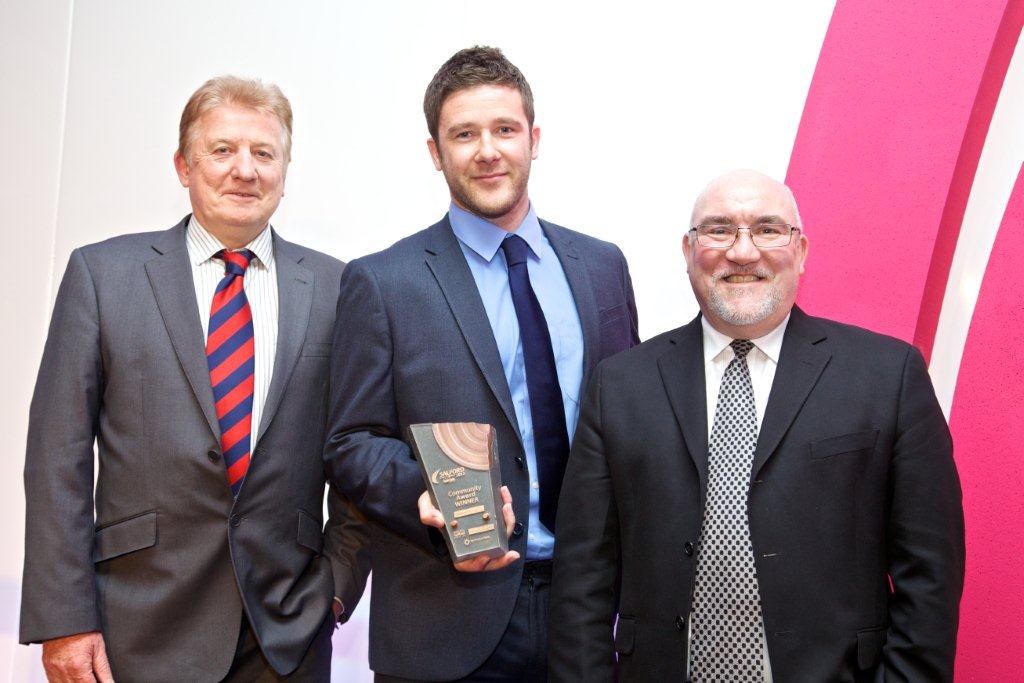 Yesterday evening (23rd May) Salford City Reds Foundation were delighted to be announced Community Award winner of the Salford Business Awards 2013, being presented with the award at the award dinner held at Salford City Stadium.
The Community Award celebrates businesses that make a committed and proactive contribution to the enhancement and benefit of the community. With the judges evaluating how organisations worked effectively with community groups, the impact within local communities and commitment to continue community work in the future, we at Salford City Reds Foundation are naturally delighted to have our endeavours recognised reflected in this award.
While being delighted to be nominated alongside a selection of fantastic businesses who make real, notable contributions to the Salford region and community, naturally winning the award provides everyone involved with the foundation a real motivation for the challenges to come while congratulating the team on a remarkable performance over the last 12 months.
Collecting the award, Mark Brocklehurst Community & Businesses Manager at SCRF said, "We are absolutely over the moon to have won the Community Award at the Salford Business Awards, and it represents the strides the team have achieved over the past year in light of tricky circumstances. It's been a big year at the foundation and the club as a whole, and with a growing team at the foundation we aim to continue our work with community groups and individuals."
Accompanying Mark to collect the award was long time SCRF Director John Blackburn, who added "We would like to congratulate all our fellow nominees, and we are delighted to be able to accept this award. It will give the whole team, as well as our community of partners, a huge boost in consideration of the efforts they put in day to day, and recognition of a job well done. We will strife to continue our good work and hope to be sitting here again in 12 months time. Thank you to Salford City Council, who sponsor this award, and to all the organisers of a great evening."
The award was presented to the foundation by Salford City Mayor, Ian Stewart at the award ceremony held at City of Salford Stadium. The night celebrated a full spectrum of business success in Salford, and now in it's 7th year having gone from strength to strength.
For more information on the Salford Business Awards, please visit www.salfordbusinessawards.co.uk or for further information on any of Salford City Reds Foundation activities please call 0161 820 2739 or follow us on Twitter @SCRFoundation