Salford legends return
9 June, 2016
Salford legends return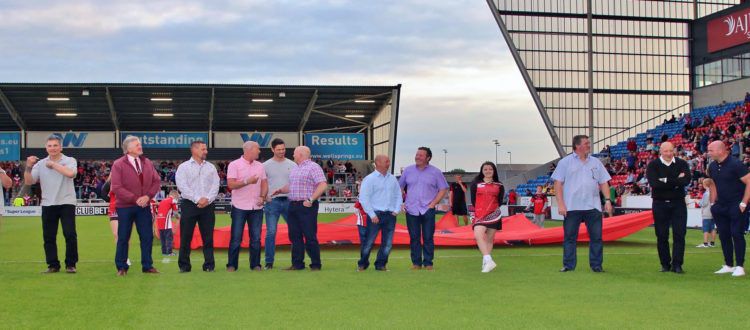 Having once been one of, if not the, most pro-active of former players' associations, the renowned Red Devils' Association has seen its membership decline markedly over recent decades, owing to the original members not having been replaced by later generations of players. Indeed, President, Mick Hennigan, is one of the very few remaining members.
Things, however, are about to change, thanks to the efforts of the Salford Red Devils Foundation's John Blackburn, himself a former player, who has been hard at work behind the scenes in accruing together a number of younger, former players, all of whom are keen to give the ailing association a boost, by bringing in new blood.
"It has been over the past couple of years that we have had the idea that we should get the Red Devils' Association together again," John explains, "because, apart from the Lance Todd Trophy every year, nothing else happens, so I spoke to some of the more local players and they all showed a great deal of interest and wanted to become involved."
This group, which consisted of Martin Birkett, Andy Burgess, Alan Grice, Paul Highton and Carlo Napolitano, had, for its first official task, the responsibility for getting in touch with other players, with whom one or other still had contact, and sparking their interest in the project.
The outcome of all of this was the most encouraging turn out of former players, who paraded onto the pitch ahead of last Friday's home game against Wigan, where they all were pleased to receive the recognition for their contributions, in their playing days, from the crowd.
For them, the moment, on which they walked out onto the field, rolled back the years, and they were all vociferous in their recollections of the way they had had the same feelings, sensations, and surge of adrenaline, which they used to experience, as they trotted out onto the turf at The Willows, in bygone days.
Having now had one successful get together, focus has moved to further events over the remainder of the season.
"It would be good to have them here at our future home games," John considers. "Raising some money for the Association will also be a necessity, as there is no money left which it can call its own. In fact, in recent years it has been the Foundation which has met the cost of everything connected with the Lance Todd Trophy."
Certainly, their first event can be looked back upon as a notable success, not least for the number of players who attended, and John looks back on the evening with satisfaction. Equally impressive was the sheer pleasure and delight, within the group, at their meeting up with one another, after such a considerable time.
"I was very pleased with how it went," he acknowledges, "and the number of players in attendance could have been even higher, but for some having prior commitments."
"The idea now is to get the Association reformed, with a new constitution," John confides, "and these players will then drive it forward. It will also be something that the present Salford players will be invited, and encouraged, to join, in order to secure its future for them."
Report – David Clegg