Friday Feature: Meet the Team... Danny Barton
12 July, 2013
It's Friday afternoon, so following on from the first in the series and celebrating the team's success at the recent Salford Business Awards, we would like to introduce you to another member of the Salford City Reds Foundation team. This week it's fans and reception girls favourite... That's right, it's Danny Barton.
Once again, we hope to provide both an insight into the work undertaken here at the Foundation, as well as the personalities behind the scenes, and hope that you enjoy discovering more about today's star man.
Q. Good afternoon Danny, thanks for making time to meet with us and discussing your role here at the Foundation.
A. No worries, happy to.
Q. Fantastic, lets start with a couple of easy ones shall we, full name?
A. Danny William Barton.
Q. Age?
A. 29
Q. And occupation?
A. I am a Rugby League Development Officer at Salford City Reds.
Q. And what does that mean day to day?
A. Well I deliver Rugby League programmes throughout the North West community, with the aim of unearthing the stars of the future.
Q. Very good, any names we should watch out for?
A. Well there's a lot of good lads out there, so the future looks bright.
Q. And how long have you been at the Foundation for?
A. It will be 5 years in July.
Q. It's July now Danny...
A. Yeah, well so 5 years then!
Q. And what's your biggest challenge?
A. Well, I need to maintain my fitness and weight for my job, so I would say not eating the things that I like to eat so much... you know, pies and cake and the like.
Q. We hear you Danny!
A. Yes, I like my cakes, especially caterpillar cake!
Q. Tasty! And what would you say is your biggest victory in your role to date?
A. Well, the first answer that comes to mind is beating Neil (SCRF Educations Officer) in the last 3 or 4 Varsity games, I miss the rivalry!
Q. And the biggest headache in your role?
A. Graisdon! (Work experience student!) Trying to keep him awake is becoming a headache. Hang him on a clothes line and he'll fall asleep
Q. And your favourite Rugby League player?
A. All time I would say Ellery Hanley as he was a loose forward like me... fast, strong and skilful, less like me!
Q. And your favourite Salford City Reds player?
A. Mmm, that's harder. Phil Ford I would say. I like the way he played, plus I remember the song we sang in the stands, and I really liked his style.
Q. Interesting, and what has been your favourite moment of the season so far?
A. Difficult question that... There's not been too many highlights, so I hope they are yet to come.
Q. And your favourite non-rugby past time?
A. (blank expression followed by long pause...) Wining & dining the missus I would say (expression changing to a smile)
Q. Ooh, very nice, any recommendations?
A. San Carlo's, every Friday (winking)
Q. And can you tell us something that we might not know about you?
A. .... (long pause)
Q. Last week Neil (Educations officer) told us how he bowled out Shane Warne once?
A...
Q. So, any story that can compete with bowling out an international cricketing superstar really...
A. Well I played for Salford in a Super League match, as well as making a handful of other appearance, and we all know that beat Neil's story of course, right?
Q. Well, it's more believable. And verifiable too I suppose.
Q. And can you share with us a secret too please?
A. Mmm, not for a family targeted website... Actually, it took place on a night out in Canal Street, and involved a foam machine. But that's all I'm prepared to say about that!
Q. Very good.
Q. A few quick fire questions now, revealing a bit more about Danny that we would normally see.
A. Ok.
Q. When was the last time you cried?
A. At the birth of my baby boy.
Q. Aaah, very sweet, and the last film you watched?
A. Skyfall.
Q. Any good?
A. Yeah, it's got James Bond in it
Q. (Quizzical expression)... And the last book you read?
A. After Haydock last year... Oh, what was it called?... It was Gary Booker's autobiography.
Q. Earliest Salford City Reds memory?
A. Well, that would be me being a ball boy at the Willows, on a Friday night, and having to fetch the balls from peoples gardens everytime they got kicked over the stands.
Q. Favourite song?
A. Oops Upside Your Head.
Q. And who sings that?
A. I'm not sure.
Q. Oh, big favourite then is it?
A. Yes, though if not that song, then the Falling Star song, my missus wouldn't be happy if I didn't say that song as it's our song...
Q. And who's it by?
A. I'm not sure, but you know ! The Falling Star song!
Q. It's all coming back to me now, so, predictions for the Catalan's game?
A. 26-18 to Salford, feeling confident!
Q. And your holiday destination this year?
A. Alcudia, with the family.
Q. Very nice. And if you could sign one player for the Reds, who and why?
A. It would be Gary English, as he's a real match winner.
Q. Almost finished now... Any phobias?
A. Confined spaces.
Q. Ooh, Neil said that also, strengths?
A. I know Neil will have said his biceps, so I'll say my quads!
Q. And can you describe yourself in 3 words?
A. Happy-go-lucky
Q. And how would your colleagues describe you in 3 wordfs?
A. Strange-but-true (Danny Doherty concurred, saying 3 words is all that was needed)
Q. Favourite TV programme?
A. I have 2! Only Fools and Auf Wiedersehen, Pet
Q. You sure your 29?
A. Yes.
Q. Now to the press up challenge... Predictions?
A. I'll beat Neil!
Q. Thanks for your time Danny, appreciate that and good luck in maintaining your position at the top of the press up table!
A. No worries, I'll stay top!
Press Up result:
53* (debate over the legitimacy of press up)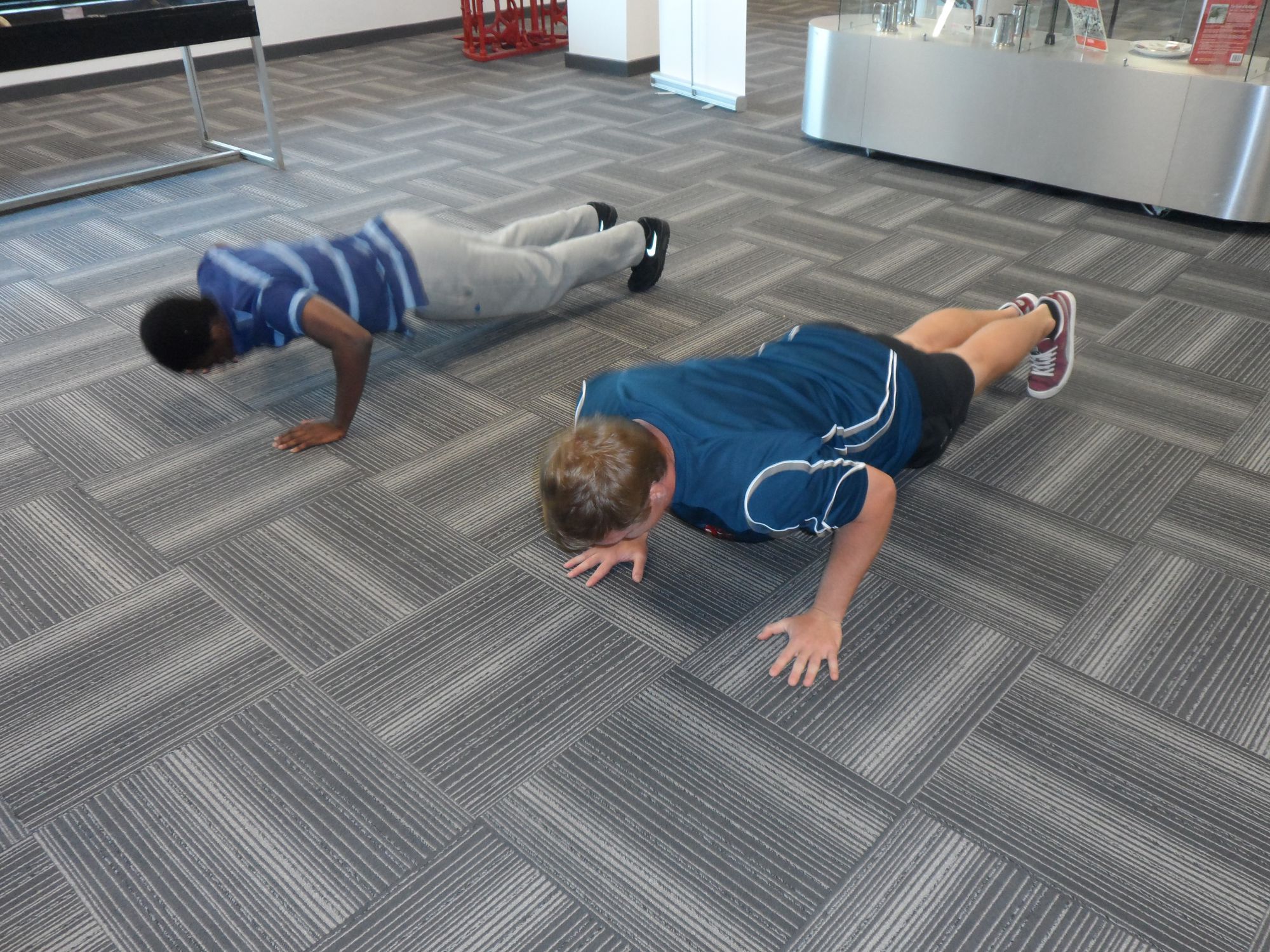 Press Up Challenge Result table:
1. Danny Barton 53* (Danny was joined by work experience student Graisdon, who scored 45, with no issues recorded concerning Press Up legitimacy)
2. Neil Blackburn 36*
*denotes questions over press up legitimacy
Next week we have the teams newest member, Sales Manager Des. Please send any questions to forward to Des to PR & Press Officer duncan.millin@icloud.com