Friday Feature: Meet the Team... Danny Doherty
2 August, 2013
Good afternoon, and welcome to the 4th in the series of meet the team. Celebrating our success at the recent Salford Business Awards, this feature aims to give you some insight into the people who make up the Salford City Reds Foundation.
While we've had fun getting to know Des last time out, today is the turn of the team's very own 'Good Doctor'. That's right, it's Health supremo, Danny Doherty.
Q. Good afternoon Danny, and thanks for making time to speak with us today.
A. No worries, looking forward to it.
Q. That's good to hear, let's dive in then! Full name?
A. Officially, Daniel Nathan Doherty.
Q. And unofficially?
A. Well, I prefer Danny.
Q. Ah, I see, and your age and occupation?
A. I am 26 and I am Health Officer here at the Foundation.
Q. And what does that mean day to day?
A. Well it is quite a wide ranging role really. One day I might be assisting people quit smoking, or raising awareness of cancer prevention activities, the next I could be promoting healthy lifestyle choices or discussing the impact exercise can have on health... Health really does have a wide remit.
Q. I see. And how long have you been here at SCRF?
A. Lets see, April, May, June, July... 3 years 3 months.
Q. And what's been your biggest challenge so far?
A. Well I suppose learning Rugby League when I first arrived!
Q. An Uphill start eh? And your biggest victory?
A. In life or work?
Q. Either.
A. Well, a couple of years ago in the preliminary rounds of the FA Cup, we were playing a team 2 divisions above us and I scored a first half hatrick.
Q. Impressive... And the biggest headache of your role?....
A. Danny Barton, all day!
Q. A popular answer! And who is your favourite Salford player?
A. Current or all time?
Q. Your choice...
A. Mmm, probably Andrew Dixon. He's a work horse, nice guy and gives his all.
Q. And your favourite moment of the season so far?
A. The fight last week wasn't too bad! Against Catalans, 5 or 6 players... Almost turned into a mass brawl!... But really, the Magic Weekend. Salford won and watching the rest was great.
Q. And away from Rugby, what is your favourite past time?
A. I'll probably get some stick for saying it, but playing football.
Q. And what position do you play?
A. I can play anywhere really... Though I don't like playing in net... I play up front mostly at the minute.
Q. And can you tell us something about you that we don't know?
A> Well, in the FA Cup preliminaries a couple of years ago, I scored 7 goals, which technically made me top scorer in the FA Cup that season... My mate always reminds me of that when I see him!
Q. Big fanboy is he?
A. I guess so.
Q. And the biggest secret you care to share with us?...
A. Secret? I don't really keep secrets, but there was this one time (shrouded whispers)
Q. Really?
A. Yeah, but that's all I'm prepared to say.
Q. Probs for the best really. And that was the last time you cried?
A. Well, I'm not an emotional person, though the last time I got upset was when my dog was taken away... but I got him back.
Q. A couple of quick questions now, what was the last film you watched?
A. Er... at the pictures,... Superman I think... I remember the originals, and though the graphics are better, the story has been kept consistent...
Q. Ok, and the last book you read?
A. It's a bit sad really, but I am doing a nutritional course at the moment, so the book from the course...
Q. And any book that you aren't required to read at all?...
A. Well the course has another book?.. So that, or the Bible...
Q. Cool. And what is your earliest Salford City Reds memory?
A. Some of the players coming into my school, as my school was very near the old Willows.
Q. Favourite song?
A. I don't have one.
Q. Favourite singer then?
A. Don't have one...
Q. Ok, holiday destination this year?
A. Australia, looking forward to it!
Q. Well Jel... If you could sign any player for Salford, who and why?
A. Mmm, who and why?.... I think the team need a half back to help us create more and the highest rated at the moment is probably Rangi Chase.
Q. Good choice, and any phobias at all?
A. No...
Q. Strengths?...
A. Amazing good looks... Jokes. My versatility really. I am a Jack of all trades kinda person.
Q. And can you describe yourself in 3 words?
A. Hard-working, reliable and versatile.
Q. And how would your peers describe you in 3 words?
A. Possibly, with, expletives!... (tbc the truth!)
Q. An your favourite TV programme?
A. I'm a big fan of intellectual dramas, like house, but also things like The Arrow.
Q. Anything else to add at all?
A. Yeah, the only time success comes before work is in the dictionary! So think about that!
Q. And final question Danny, how many press ups can you do in a row?
A. We'll see, but mine will be proper, not like Danny Barton's!
Danny achieved 47 UNDISPUTED press ups, leaving him 2nd in the table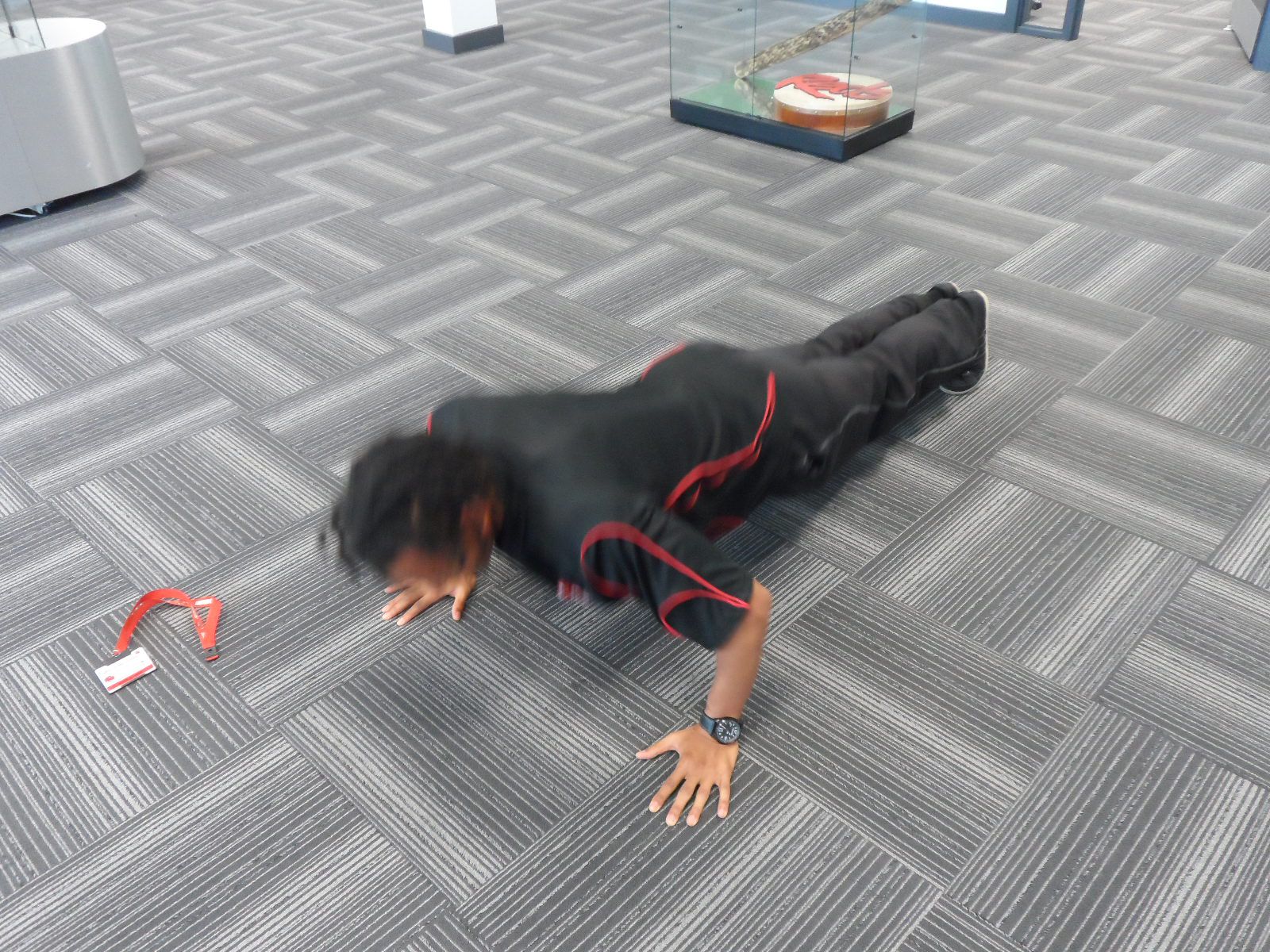 Press Up Challenge Result table:
1. Danny Barton 53* (Danny was joined by work experience student Graisdon, who scored 45, with no issues recorded concerning Press Up legitimacy)
2. Danny Doherty 47
3. Des Burgess 43
3. Neil Blackburn 36*
*denotes questions over press up legitimacy
Next week we have Andy Connaughton, SCRFoundation's very own Manchester Development Officer. Please send any questions to Duncan.millin@icloud.com