Reds Star Heads up College RL Academy
11 November, 2012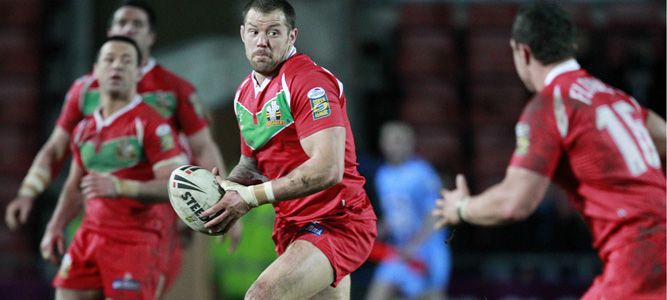 Salford City Reds' Welsh international star Jordan James has taken a first step into coaching by taking over the reins at Salford City College's Rugby League Academy. Jordan is currently on international duty as his Wales side prepare for matches against England and France over the coming weeks. The Autumn International tournament culminates in a final at the Salford City Stadium on Sunday 11th November and Jordan is hoping his new charges will be able to cheer him on.
Jordan made his international debut back in 2003, whilst as a Sheffield Eagles player he was selected to play against the mighty Australia. His career has now spanned nearly 10 years that saw him named captain of the side in 2009 and 2010. Domestically 2013 will be his 3rd season with the Salford City Reds and Jordan is keen to begin to look at what lies ahead career wise beyond Super League.
Salford City Reds have enjoyed a fantastic partnership with Salford City College over 10 years and this element is the latest in a long line that sees the college sponsor the club, as well as working together on a joint RL Academy and NVQ Apprenticeship.
The college has a large number of pupils on both the Academy and Apprenticeship who play for the College's RL team in the NW College Championship. Always competitive, the College won the Championship as recently as 2010 and Jordan is expected to make an immediate impact on the group of players
With regards to the NVQ, participants spend a large amount of time at Salford City Stadium and out in the community working with staff to learn valuable new work experiences. Away from their studies pupils can be found working with different aspects of the business on match days, in club shop, with its physio and much more.
The relationship with the College is all about providing young people will great experiences, as well as valuable qualifications. The two organisations work closely together in local schools to promote their programmes and a high number then progress on to work or further education at Salford University. Jordan is very excited about being involved with this pathway and looks forward to the challenges ahead.
For more information on the Rugby League Academy at Salford City College including how to register for this year, please contact Neil Blackburn via 0161 820 2739 or neil.blackburn@reds.co.uk