Salford Clubs unfortunate in Grand Finals
25 October, 2016
Salford Local Clubs Grand Final Appearances
Local clubs Langworthy Reds and Folly Lane both made it to there respective league Grand Final with both teams matched up against Orrell St James.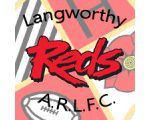 Langworthy were first up in early morning of the North West Mens League finals day with a 9.30 kick off versus Orrell St James 'A' in the division 5 Grand Final. Langworthy made it to the Grand Final after finishng 2nd behind Orrell in the league.
Orrell got off to a good start and went into half time with a 16 - 0 lead. This needed better second half from Langworthy which they provided narrowly losing the second half 12 - 8 with a full time score of Langworthy 8 Orrell 28.
The Langworthy squad for the game was as follows :- James, Molyneux, Chris Cootes, Callum Jones, Jack Mellor, Scott Jones, Charlie Kerringan, Chris Winstone, Tom Dowson, Jack Davies, Dave Whitehead, Sam Taylor Kieran Bamber, Ryan Griffin, Lewis Kemp, Luke Oliver, Joe Burns, Stephen Stephenson, Nathan Youd, Mike Evans.
Tries: Lewis Kemp, Luke Oliver

This then takes us to the penultimate game of the day of the day 17.30 kick off Folly Lane took on Orell St James in the division 1 Grand Final. Folly managed to make it to the Grand Final after finishing 3rd in their league and were facing league leaders Orrell. Orrell again got off to a good start taking a 12 - 0 lead with Folly pulling it back to 12 - 10. After the rally from Folly, Orrell managed to pick up another 6 points making it 18 - 10 at the break. With work to do after half time Folly drew first blood taking it to 18 - 14 before Orrell opened up a comfortable lead finishing the game Folly 14 Orrell 32
The Folly squad for the game was as follows (*) :- Harry Warburton, Micheal Futton, Martin Jamieson, Josh Jones, Jamie Redshaw, Lewis Lockett, Liam Saunders, Aaron Hall, Jack Wilde, Craig Spencer, Ross McMahon, Robert Smith, Damian Blake, Bradley McDonagh, Micheal Smith, Zak Brooker, Thomas Warburton.
Tries: Lewis Lockett, Thomas Warburton, Martin Jamieson Goal: Thomas Warburton
*courtesy of www.northwestrugbyleague.co.uk